Jean Leon, still visionary half a century down the line
Many wines have a story to tell but very few have a story like theirs, according to Jean Leon, the famous bodega in the heart of Penedès, Spain. Its founder, Jean Leon, a native of Santander, opened a restaurant in Beverly Hills and became a Hollywood celebrity. At the company they remember "Ceferino Carrión" (Jean Leon's real name) as a man with a unique knack of being ahead of his time.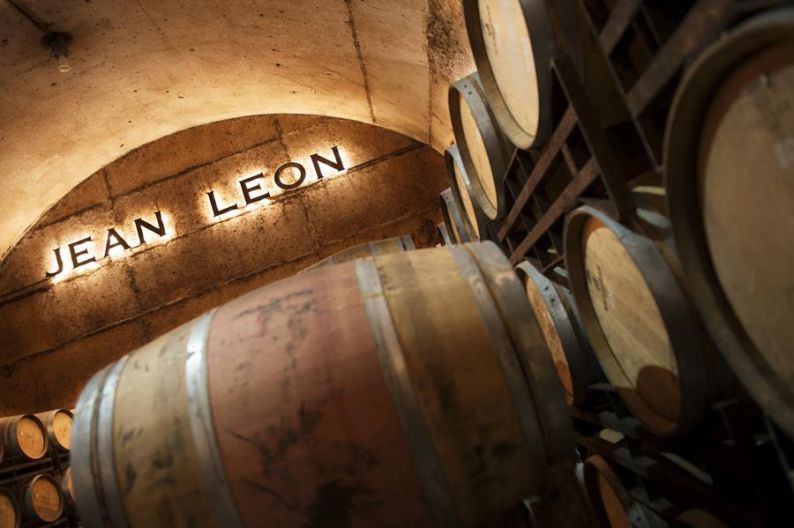 Cellars of the winery Jean Leon
According to the company, "wine crafted by the Jean Leon bodega is the culmination of the life of one man."
They also speak of "Jean Leon's gift as a visionary." His spirit remains "unshakeable" at the bodega which today boasts the highest distinction to which Catalan wines can aspire, that of Vi de Finca.
Last year, to mark the bodega's 50th anniversary and working with Catalan agency, Pavlov, the company reworked the image of a good number of its wines in order to more strongly convey the fascinating story of its founder. As well as introducing the Vi de Finca identity, the new labels display the wines' organic certification obtained after the completion of a process started in 2008 in 61 hectares of vineyards.
Jean Leon's general manager, Mireia Torres, stresses that obtaining the Vi de Finca qualification for their high-end ranges is "recognition of the work carried out since 1963 to produce high quality wines". The company also adds that "it is recognition of the uniqueness of the wines from a single vineyard, resulting from a combination of a specific grape variety, grown in a particular soil type and a microclimate which brings out the wine's optimum expression".
Jean Leon pioneered the planting of the Cabernet Sauvignon and Chardonnay varieties in Spain and today, under the stewardship of the current general manager, Mireia Torres, the bodega remains committed to innovation, adapting and obtaining high levels of quality from varieties such as Petit Verdot. They have also just released the company's first rosé, and have created a contemporary new line of wines baptized "3055", after the number of Jean Léon's New York taxi driver's license.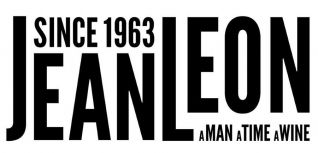 Jean Leon's first vintage in 1969 was sold as a table wine exclusively in the United States. There are only about 80 bottles left of this first vintage. Today the company, owned by the Torres group, sells in around fifty countries worldwide. Under Mireia Torres' management, exports have increased by 50% in value in just two years. Turnover in the last financial year was 1.59 million euros, with a production of 275,000 bottles. The company's main markets are the U.S., Japan, China, Switzerland, Germany and Sweden. They already sell more bottles of their Gran Reserva in China than they do in Spain.
In recent years Mireia Torres has increased penetration in markets such as Canada, Norway and Finland. Having incorporated Jean Leon into the Torres group sales team in February 2013, and with exports now 50% of production, they hope to continue to grow despite the economic crisis. The incorporation into the Torres sales team could not have been more successful. Mireia Torres says that "we very much value the work of the sales team."
Jean Leon's wines are, unique and inimitable, produced from an exceptional vineyard
Despite the good export performance, they have no intention of neglecting the Spanish market. Mireia Torres says that managing Jean Leon has allowed her to gain experience in other areas of the wine business. Her technical training as an oenologist had led her to think that "if the wine is good it will sell itself". She now realizes that this perception is mistaken.
Coinciding again with its 50th anniversary, Jean Leon has decided to increase the vineyard surface area of the 150 hectare estate's star grape variety, the Cabernet Sauvignon. The company's general manager confirmed that Torrelavit winery technical staff have planted three more hectares. Currently Jean Leon, who pioneered the planting of Cabernet Sauvignon and Chardonnay in Spain, has 61 hectares.
Jean Leon's oldest Cabernet Sauvignon vineyard, La Scala, bearing the same name as Jean Leon's Beverly Hills restaurant, was planted in 1963. The vines grow on shallow calcareous loamy soil with low clay content. The soils have low nutrient content, making them ideal for "a small, concentrated and high quality harvest." Cabernet Sauvignon is also planted in the 15 hectare Le Havre vineyard.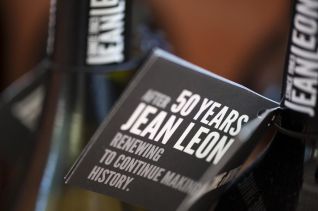 The winery's 50 years anniversary commemorative bookletOwned by the Torres group since 1994, Jean Leon was the first bodega in Spain to plant Chardonnay, the first to carry out barrel fermentation of a white wine (1973) and the first to produce a bottle of Cabernet Sauvignon (1969). Today, they state that Jean Leon's wines are, "unique and inimitable, produced from an exceptional vineyard" and that their small production "remains true to the style of the creator, Jean Leon".
According to the winery, thanks to the expert advice of Jean Leon's first winemaker, Jaume Rovira, "our wines remain true to the creator's style and ideals of quality, faithfully preserving his legacy". They also state that their wine range "is a reflection of the life of a man and an era, and is made up of wines with their own story and personality".
Jaume Rovira, an institution in the wine world, claims to have spent "a lifetime" at Jean Leon. When he retired in 2008 he had spent four decades with the company. In fact, he claims to have spent more time in the winery and its vineyards than in his own home. He says that "Jean Leon was the high point of my career and work which I've thoroughly enjoyed."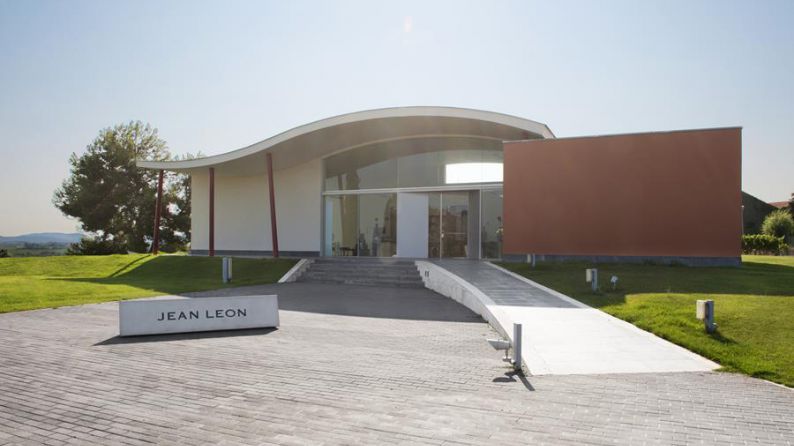 Rovira's first crop, which only filled 22 barrels of 225L, was the 1969. Since then there have been a number of memorable vintages, including some real gems. Without referring to any notes, Jaume Rovira reels off the vintages of which he is the most proud: 1971, 1975, 1978, 1979, 1982, 1983, 1987, 1991, 1994, 1997, 1999, 2000 and 2001.
Jean Leon's former winemaker likes to remember three vintages for their appeal to three different consumer types: the 1981 for drinkers of soft reds, the 1982 for the well informed, as it received very good reviews, and 1983, for wine connoisseurs, because for Rovira this vintage was clearly better than the '82. He still remembers the bodega's first vintages, selling at over 400 pesetas a bottle, as if it were yesterday.
Continuing the work of Jaume Rovira for the last ten years, alongside Mireia Torres, is oenologist, Xavier Rubires, who admits that "Jean Leon" captivated and "ensnared" him from the outset. He describes working at Jean Leon as "exciting and addictive". Mireia Torres says she feels "very proud" to be working in a bodega "with such a special history."
The company is also investing heavily in wine tourism. Food pairing experiences, a wine and magic show, electric bicycle or Segway rides and theatrical tours can all be enjoyed at the winery. As a tourist attraction, they have on display the exclusive 256-HP Mercedes convertible which Jean Leon acquired in 1972 and used to drive around Beverly Hills. They had it restored and shipped to the Torrelavit bodega from California.
Historical vertical tasting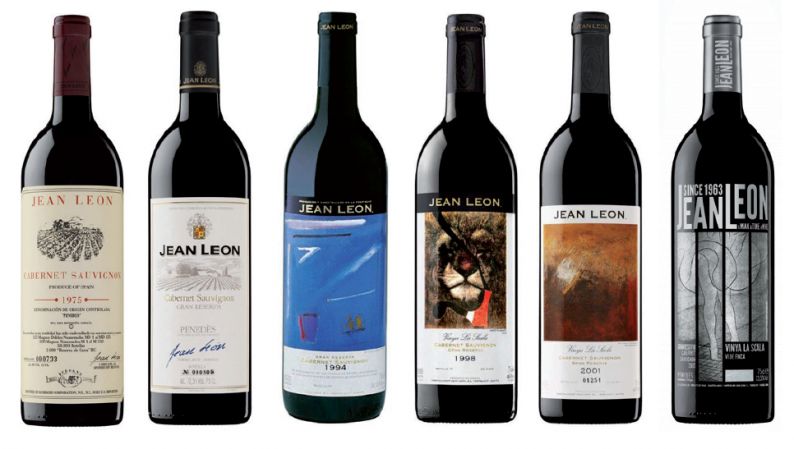 Selection of our wine tasting
Mireia Torres led a memorable historical vertical tasting of Jean Leon Gran Reservas during the second edition of the Temps de Vi wine festival in Vilanova i l Geltrú:
The 2003 Gran Reserva: (the label depicting Marilyn Monroe with her billowing skirt was designed by Josep Maria Subirachs) shows that it comes from a very warm year. It is mature (Californian prunes) and still hard. Complex on the nose.
2001 Gran Reserva: a wine from a great, and fairly dry, year in Penedès. It is balanced, elegant, fruity, with smoother tannins than the 2003 vintage, with notes of leather and nicely integrated alcohol. The wine label, entitled 'Transformation', is the work of Waltraud Maczassek, Mireia Torres' artist mother.
1998 Gran Reserva: was one of the ones I liked most. Also the result of a very good vintage, it is excellent, it is exciting, fragrant (aromatic herbs such as lemongrass), silky and long. A great wine.
I liked the 1994 Gran Reserva: with the label featuring the 'wine glass' work by Ràfols Casamada, for its minty freshness, lingering through and into the aftertaste. It shows maturity and balsamic notes.
1982 Gran Reserva: was, without doubt, the most exciting wine for me. It was year of widely spread rainfall. This exciting fine wine was showing roasted peppers, anchovy, Mediterranean scrubland, leather and dark candied fruit.
The tasting concluded with another little gem, the 1975 Gran Reserva: it was served at the banquet given at the investiture of Ronald Reagan as President of the U.S.A. It was not my favourite but I was impressed by the fact that it has reached 2013 in such a splendid condition. Laurel, nuts and notes from aging in American oak characterize a wine of which little over a hundred bottles remain.
Recommended articles
Comments