French nuns aim to sell 9,000 bottles of rosé by Monday
Nuns in France are hoping to sell 9,000 bottles of rosé by Monday 26 April – and will use the internet to do so, after wine fairs were cancelled due to Covid-19.
Yes, after the cancellation of events such as the prestigious Salon des Vins d'Abbaye in Paris, the resourceful nuns turned to the ordre du jour for vignerons whose usual markets have disappeared during the pandemic: the internet.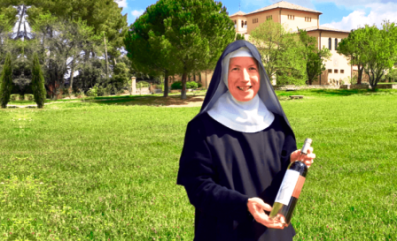 The nuns, who have been making their wine for 20 years, have teamed up with communications experts Divine Box. The challenge? To sell 9,000 bottles by midnight on Monday.
"One of the constraints of the rosé world is that everything is done in February-March," co-founder of Divine Box Côme Besse told French news outlets.
Sister Armel, one of the wine-making nuns, added "Rosé is not a wine to keep. When you produce it, you have to sell it that year, it does not improve over time."
Wine sales are key to the lives of the abbey's 47 residents. The revenue provides a significant source of income for the abbey – alongside sales of other produce such as olive oil. "It allows the good sisters to continue to live and the Abbey to prolong its existence," Sister Armel said.
If you're interested in sampling the nuns' rosé, then a box of six bottles will cost you €63.90 (roughly US$70). There are also two reds for sale. You can find out more and make a purchase here.
Information from The Drinks Business
Recommended articles
Comments