Champagne in Cava territory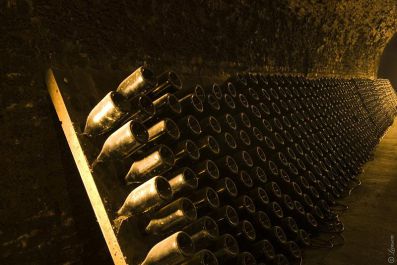 Maison Lanson cellarThe consumption of Champagne in Spain has fluctuated somewhat over the last five years due to various factors, the most important of which, according to the Champagne Bureau in Spain, has been the international and Spanish economic crisis "which has affected Spanish consumption habits". Spain has gone from 4.5 million bottles consumed in 2007, to 3.1 million in 2012. The last time sales were lower was in 2005. However, in 2010 and 2011, official shipment volumes stood at c.3.7 million bottles, a figure which the Champagne Bureau in Spain considers "basic core consumption in Spain whatever the economic context or other circumstances".
For many years Spain was the eighth biggest export market for Champagne and has dropped to ninth in the world rankings only in the last two years. The strength of markets such as Australia has pushed Spain down the rankings, but it still remains in a good position, behind the top 3 traditional Champagne export markets: England, the U.S. and Germany.
For Núria Gené, director of the Champagne Bureau in Spain, "the current situation is ideal because Spain has over 100 importers of Champagne brands from different types of producers: vignerons, cooperatives and Champagne houses. What's more, according to Gené, the training of sommeliers, buyers from the food service industry, as well as consumers, has progressed significantly in recent years. She adds, "We therefore have an ideal scenario where Spanish consumers can buy, seek advice, consume and in particular, explore the world of Champagne and the many Champagne types available to them in terms of tastes and blends, as well as price. If, of course, it weren't for the economy...".
The Spanish office, based in Barcelona, states that "Champagne is considered a luxury product. It is an undeniably high-end, gastronomic product and its price matches the quality and work that goes into each bottle. But the most significant step forward came when Spanish drinkers started to consider Champagne that it is - a wine from the Champagne region of France, a sparkling wine, which enjoys the greatest prestige and universality in the world". According to Gené, the availability of Champagne by the glass, promoted by leading bars (restaurants or hotels) has attracted "a smart, experimental consumer who is starting to consume Champagne as an aperitif or mid-afternoon drink." She also believes that there are still prestigious events where only Champagne is served, and that food pairing suggestions made by food experts and sommeliers have broadened Champagne's scope, making the customer more aware of the many potential drinking occasions and different Champagne types.
The core consumers of the 3.7 million bottles are Spanish drinkers who are well informed and well versed in sparkling wines because, according to Gené, "Spain boasts one of the most well known sparkling wines in the world, and Spanish consumers, due to tradition and culture, are generally wine lovers. Although Spain is still a country which prefers big Champagne brands, the opening of local specialist stores in Spain has led to consumers discovering blends, vigneron Champagnes, and the various different types of Champagne produced by the best known brands which better suit their personal tastes, drinking occasions (with family, celebrations, etc..) and budget."
Another important market driver is the high-end tourism, regular drinkers of Champagne, which continues to come to Spain. There is a base level of tourism all year round, but with an upswing particularly in the summer months. These tourists frequent top hotels, restaurants and nightclubs in the Costa Brava, Balearic Islands, Marbella and Sotogrande, as well as big cities such as Barcelona, ​​Madrid and Seville. "Bilbao and San Sebastian also fall into this category of cities which attract men and women from around the world, for the culture, the shopping and/or for international business purposes.
These visitors also like to dine in Spain's top restaurants." says the Champagne Bureau in Spain. This is a reference to the French, German or British visitors whose traditional taste for Champagne is well known. But Gené also states that "we can include the Russians or the Japanese, who have shown a taste for sophisticated Champagne (prestige cuvées, vintages, rosé) over the years, making them the fifth biggest export market for Champagne. Of course, when they are in Spain, these customers expect to see and find a Champagne offer which suits their tastes and habits. They are without doubt very important and loyal consumers, who complement the Spanish in the overall picture."
From the point of view of the Champagne Bureau in Spain, the reality and expectations are therefore optimistic but realistic. The director of the Bureau adds that "much remains to be done to enable Spain to take its rightful place among Champagne export markets but the path and the current situation are at an ideal point to make this happen.
Meanwhile all those involved in the Champagne industry continue introducing new Champagne types, and promoting and spreading the word about the excellence of Champagne". This activity is taking place across Spain, where not a week goes by without two or three tasting events aimed at enhancing the Champagne knowledge of Spanish sommeliers, as well as that of consumers in the ever growing number of amateur tasting clubs.
According to the Champagne Bureau in Spain, who follows guidelines set out by the Champagne interprofessional committee to which it is attached, "there are many different activities, all designed to bring Champagne closer to as many opinion leaders as possible, as well as the end consumer. These are aimed at ensuring that current and future drinkers (among them a new generation of young people who are starting to drink it), continue to consider Champagne as the best sparkling wine in the world, one which brings pleasure, sophistication and joie de vivre ".
For Pere Bonet, Freixenet Group's communication director, the only Spanish company owning a Champagne house (Henri Abelé), the fact that Spain is a producer of fine wines and that there are seasoned drinkers of quality sparkling wines produced using the traditional method has, along with the bubbling tourism and gastronomy sectors, helped Champagne sales in Spain. He says that Cava has also experienced a spectacular rise in France, with sales figures similar to those enjoyed by Champagne in Spain. For Henri Abelé, whose production is stable at about 450,000 bottles a year, Spain is the second biggest market after France.
Henri Abelé, based in Reims, is the third oldest House in Champagne. Since 1757, "the company's focus has been on creating a full range of Champagnes which respect tradition and where its collection of vintage Champagnes has great importance. Fine craftsmanship assisted by current technology". They are also proud of "a job carried out to the highest standards"
Torres, with its long experience representing prestigious Champagne brands in the Spanish and international markets, began distributing Lanson Champagne in Spain in 2013. Founded in 1760, Lanson is today part of the Bruno Paillard stable. Torres says that "there is high demand for Champagne from Spanish consumers with higher purchasing power and who are among the most clued-up about still and sparkling wines. While sales have fallen in recent years due to the economic crisis, it remains a very attractive product. Torres' mission is "to provide solutions for our customers which is why we have been distributing Champagne for nearly 30 years. One of our company's biggest strengths is our strong distribution network in Spain, and this is an important point for the Champagne brands we work with. Torres also has close associations with haute cuisine, and Champagne allows us to diversify the range of premium wines we offer."
Although the 2012 shipment data for Champagne in Spain "did not follow", according to Laia Rosal, managing director of Primeras Marcas, who distributes Roederer in Spain, "there is room for growth in the Champagne market in Spain, precisely because the growing, high-end tourism in Spain consume this product. There has probably been a decline in Spanish domestic consumption which will be offset by this high-end tourism, who considers Champagne as the ultimate luxury product."
Referring to Louis Roederer in particular, Rosal says that "our margin for growth is significant, in terms of Spanish consumption where we still have some way to go, and in terms of the growing tourism which we can tap into. Louis Roederer has gradually become an established brand and quality reference".
Laia Rosal, who is a member of the family who owns Juve Camps Cavas, believes that Cava and Champagne "should not be compared". She recognizes, however, that as Spain is a producer of Cava, with strong roots in this product, consumers will inevitably make some comparison. She also believes that "the differences in grape varieties, climate, and terroir, etc., and how these influence the final result, are understood by the trade. Even at consumer level each product has a market space as the consumer, the drinking occasion and price positioning vary".
The "extraordinary" times which Spanish gastronomy is enjoying, are creating fertile ground for the growth of Champagne in Spain, according to Primeras Marcas, because "it puts us in the spotlight internationally and some of this growing tourism is attracted by the gastronomic offer". Having said that, they also state that "the Spanish consumer is becoming more aware of and interested in learning about and trying new products"
Under the leadership of Catalan, Jordi Vinyals, Laurent Perrier's turnover grew by 1.9% to 222.9 million euros in the last financial year (April 2012 to March 2013) despite "a difficult economic environment in Europe." Vinyals joined the Laurent Perrier group in August 2012 as general manager of sales, brand development and communication. The rise of Laurent Perrier in Spain has been particularly spectacular (sales increased by 22% in the last financial year).
Spain is the ninth biggest world market for Laurent Perrier and for the Champagne sector overall. As far as the new financial year is concerned, sales in Spain, via its distributor, Riojan company, Marqués de Riscal, continue to show double digit growth of between 10-15%. The company has good reason to have a positive outlook for Spain, where it managed to generate record sales of 4.7 million bottles of Champagne in 2007, "because Spain is a market which has an ingrained quality sparkling wine culture and because it is seeing an emergence of the tourism and gastronomy sectors". Vinyals believes, however, that with the exception of Catalonia, Madrid, the Basque Country, Malaga, Marbella and the Balearic Islands, the Spanish market "is still not mature enough." Vinyals also sees "big opportunities" for growth in Africa (especially in the former French colonies), in Eastern Europe, Latin America and Asia. He says that Cava and Champagne cannot be compared because, despite the fact that both are quality sparkling wines produced by the traditional method, "they are different products."
He does not quite go as far as to state that Champagne is better than Cava but he does believe that "Champagne has been able to create much more added value than Cava has". He also considers it a weakness that the Cava sector does not have an organizational set up like the "Comité Interprofessionnel du Vin de Champagne", i.e. an interprofessional organisation in which the Champagne houses hold only 10% of the growing surface area. In fact, in the Champagne region, which produces the most prestigious and best-selling sparkling wine in the world (308 million bottles in 2012), they are surprised that a kilo of grapes in the Cava industry sells at an average price of under Euros 0.40. According to Vinyals, Laurent Perrier pays an average of around Euros 5 per kilo for its grapes. He also adds that "Champagne houses understand that they are in the business of selling dreams and luxury, not just a liquid.
Unlike other companies, Laurent Perrier's definition of luxury is not about ostentation, but is based on an epicurean vision, simple elegance, the love of a craftsman for fine work, an expression of the French art of living". He says that he believes that these values ​​will be increasingly important to those who identify with them.
Antonio Escofet, commercial director of the Bodegas Chivite Group, the exclusive importer of Taittinger Champagnes in Spain, believes that "although sales reflect a decline in Champagne imports and have been hit by the economic crisis, the future of Champagne in Spain is bright, He believe that "Champagne entered the market in the last decade and is here to stay." He also believes that "the decline in sales is temporary as the market is impacted by the economic crisis, but within the sales decline there are different behaviours.
One of the main reasons for the decline is the reduction in budgets for events, banquets and weddings (a market in which Champagne had secured a firm foothold in recent years) which has resulted in smaller event and cost cutting. On the other hand, sales at the top end of the market continue to grow, albeit only in certain establishments." Escofet also acknowledges the dynamic growth in the high-end tourism market, which is a regular consumer of Champagne. Chivite's commercial director has no doubt that Cava and Champagne should not be compared: "they have different drinking occasions, circumstances and consumers." He goes on to say that "the Spanish high-end restaurant sector and the worldwide success of Spanish cuisine are, without doubt, a great support for Champagne consumption as their customers are used to ordering the best, regardless of price.
The excellent work carried out in the Spanish restaurant industry benefits everyone, the image of the country and the growth of Spanish wines (Spain has wines with a good image and internationally recognized quality). It also provides strong support for the tourism market in general, and a good reason to capture this customer with high purchasing power." Taittinger is the third biggest Champagne brand in Spain: one of the few international brands which remain the property of the family whose name it bears. Its president, Pierre Emmanuel Taittinger, runs the company along with his children: Vitalie, who manages corporate affairs and design, and Clovis, who manages exports.
Recommended articles
Comments