Bodegas Mauro: The maestro, the Duero and the land
The maestro Mariano García founded his winery in a town which features the glorious river in its name, Tudela de Duero. He knew perfectly well that it was outside the legendary Denomination of Origin. This was at a time when the Ribera del Duero was starting to glimpse glory, but that didn't bother him much. Mariano García already had a quality D.O. – Himself. Proudly bearing the name of Mariano's father, Bodegas Mauro were founded in 1978, in a 17th century manor house in the centre of the Castilian town, with a few old vines that a friend gave him because he was going to pull them up.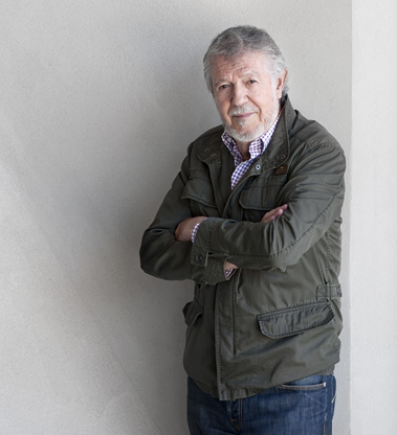 Mariano GarciaMariano García didn't think twice, 36 years ago, when a good friend told him that, if he wanted to take on around four hectares of old vineyards between Santibañez and Tres Pinedos: "You can pay me when you like and do what you want with them, because if you don't take them, I'm going to grub them up". Mariano took them on. Two years later, the same friend said to him, "Mariano, if you'd like to have the house of my relative, Tomasita, I'll sell it to you at a very good price because we're about to knock it down".
Mariano naturally took it on. It was a lovely manor house, typically Castilian, with a brick façade and stone archway. It had belonged to the aforementioned Tomasita, a forebear of the good friend and lady of the Court of Valladolid, who used to stay from time to time in Tudela de Duero, only about 20 kilometres from the city.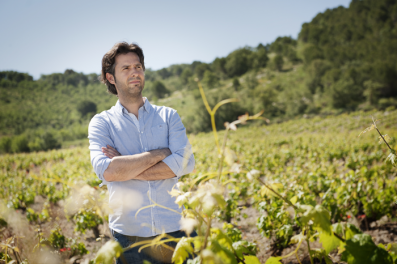 Eduardo Garcia, Mariano Garcia's sonAt the time, Mariano García was the winemaker at Vega Sicilia, where his father had always worked and where he himself had been born. He was then 54 years old and was excited by the idea of embarking on this own project. Besides, what would he do with the grapes from his four hectares? He would just have to make wine with them. He thought that the manor house could be the foundation stone of a project he had in mind. "I really liked Mercedes –he says- but I also like Audis, and so I wanted to try something else".
Mariano was to gradually transform the enormous mansion which boasted a large courtyard at the back and a good basement. He turned the courtyard and part of the stables into a vinification area, the basement into an ageing cellar, some rooms on the first floor, no doubt family bedrooms, into barrel "rest rooms", and the wide paved entranceway through which carriages used to pass, into a reception area with a tasting table. He continued gradually extending the house and by 1997, it was fair to say that Tomasita's mansion had been transformed into a winery from the inside out. This was also the year when Mariano Garcia's two sons, who were studying and getting ready for working life, joined the winery.
QUOTAS FROM THE START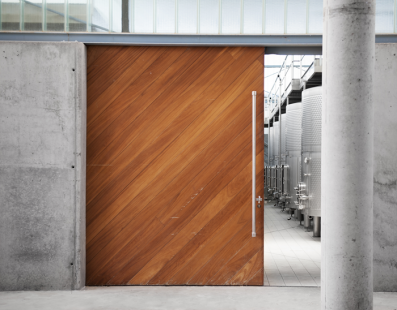 The Mauro brand has been around since 1978 and a quota system was established from the very beginning, a policy no doubt inherited from Vega Sicilia. There was a slight increase in quotas in 1985 when Mariano acquired more vineyards.
In about the year 2000, the company bought a large plot of land on the way in to Tudela where, over time, they would build a totally new winery, immaculately designed by Chus Manzanares, the famous architect who had worked on large wineries in the purest Californian style. It is now fully operational, but nevertheless Mariano likes the wines to come here, to Tomasita's house, where the remaining Mauro 2010s are lined up in what were formerly the stables. There is plenty of space in the new winery, but he prefers to bring wine here and thus avoid piling barrels up three or four high.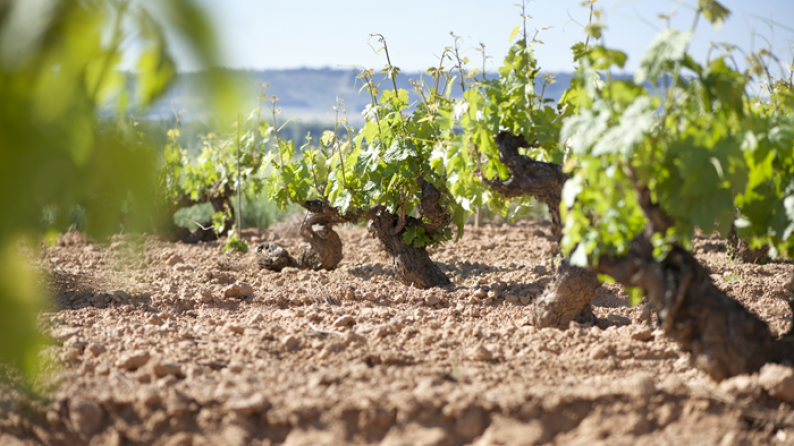 We leave Tudela, the mansion winery, and we set off for the brand new Mauro bodega. A grand entrance, gardens, trees, large open spaces, clean lines, Manzanares style, California and New World winery style. The production hall and storage chamber were the first two to be built. At harvest time, large amounts of grapes arrive in the afternoon and in high temperatures, transported in crates of just 8 kilos so they can be easily handled and completely palleted up. The large storage chamber has the capacity to hold up to 40,000 kilos of grapes, which start the next day's winemaking process, totally fresh.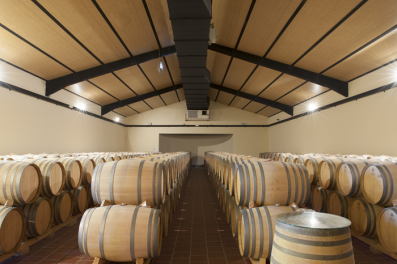 Fermentation is always carried out with the winery's own starter culture as it has active yeasts and they can be inoculated at the right moment. The wines undergo malolactic fermentation in vats or barrels, depending on the parcels and the wine being produced. Mariano asserts that he has no set rule for winemaking. He just does what the wine tells him to. In Mariano's opinion, malolactic fermentation is best carried out in large containers, but there are batches of grapes for which he prefers it to take place in small casks.
The production hall therefore contains tanks and vats in a wide range of sizes, as well as an impressive array of barrels from different cooperages, and naturally all of the highest quality. "Driving along a main road isn't the same as driving along a mountain track –says the great master- Each wine needs its own vehicle. Each one needs a philosophy. You don't have to follow the latest trends. You don't have to go mad, it's all much simpler. For me the only rule is to have good base material, the best. If we see that a new barrel has already done its job at a given time, then I'll take it out. It's common sense. It depends so much on each harvest!!"
Each year they replace around 33% of their barrels. Mariano loves to play around with them and doesn't deny probably having barrels over four years old, because it sometimes suits him to have them. He's very good at juggling barrels...
TERREUS TERROIR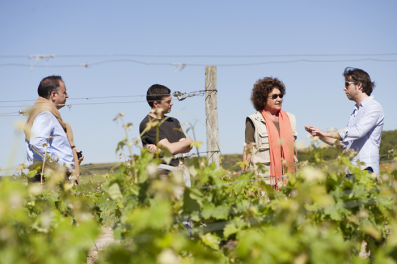 Eduardo Garcia (right) shows us the winery's vineyard parcelsI set off with Eduardo, one of the two sons, to visit the vineyards which are fairly spread out over several areas. All in all, there are vineyards in 12 different locations, totalling about 65 owned hectares. Eduardo has studied oenology and viticulture in Bordeaux, then in Burgundy and California, where he worked at Ridge Montebello, a legend in California. He confides to me that he didn't originally want to work with his father, but having now been working with him for 13 years, he says…. "My father is a very smart guy. He has a lot of common sense. We are very different, but we always share decision making among the three of us".
Paraje de la Cueva Baja is a tiny parcel measuring a mere 730 metres of clay and sand soil, which yields no more than 8,000 kg of Tinto Fino, which all go into Terreus, if the year and weather permit. If not, there's no Terreus. It is their star wine and Eduardo's baby, which he raises as his own, with his father looking on, of course. It first came out in 1996 but didn't appear in 2000, 2002, or 2007.
Going from vineyard to vineyard, we find calcareous-clay, slopes, some trellised vineyards, but mainly bush trained ("en vaso") vines... "We only have 13 ha trellised. It works well for a vine's first years, but from 15 years of age it starts to cause problems." Synthetic fertilisers are not allowed anywhere. They use liquid sulphur with nettles, which makes the sap circulate better, horsetail, garlic, which keeps mites at bay, Bordeaux mixture and that's it.
We head off for Mamblás, to El Esparragal, another parcel, lovely bush vines, which you could almost sit in as they look like environmentally-friendly designed chairs. Apart from Tinto Fino, Mariano planted Syrah in 1984 but waited for 12 years until it was old enough to be used in his Mauros, the brand with the biggest production, the first wines he brought out.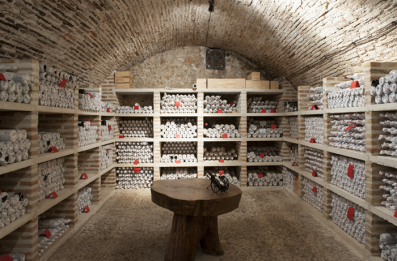 They store bottles of wine from all the past vintages in the "graveyard"After our visit to the vineyards, we return to the modern winery, where Mariano García, always magnanimous and a fount of knowledge, like every good master, continues his lecture, "I like the wine to know the seasons. It may well be 12ºC but I don't want the winery to warm up until the end of July when it's hotter..." He is now putting a finger in each barrel to check whether it's completely full... "With humidity at 70 to 85% and this extra-fine grain oak, we can't have more than the normal loss".
Mauro, Mariano, Alberto, Eduardo... the García saga continues. The discussion goes on, but they always agree in the end. Headstrong people with strong characters, they each have their own opinions and preferences. Thank goodness there are the three of them involved in the decision making, if not there would always be a stalemate. Mariano, for example, likes a slightly reductive touch so that the wine "whinnies", as he puts it. His son Eduardo doesn't like New World wines, too uniform, too "perfect"... no soul.... he prefers wine to have slight defects rather than it all tasting the same.
Before we bid farewell, we try a Mauro VS 2009, which at that point had only been in bottle for three months and which for Mariano is "perfect". He says that it is evolving so much, so quickly, that he is not sure it will improve from being left in the rack any longer. Not according to his son: "Little definition on the nose" he says....
I leave them discussing. Three wines, three souls, three personalities, but above all one Mauro.
Website: www.bodegasmauro.com
Recommended articles
Comments