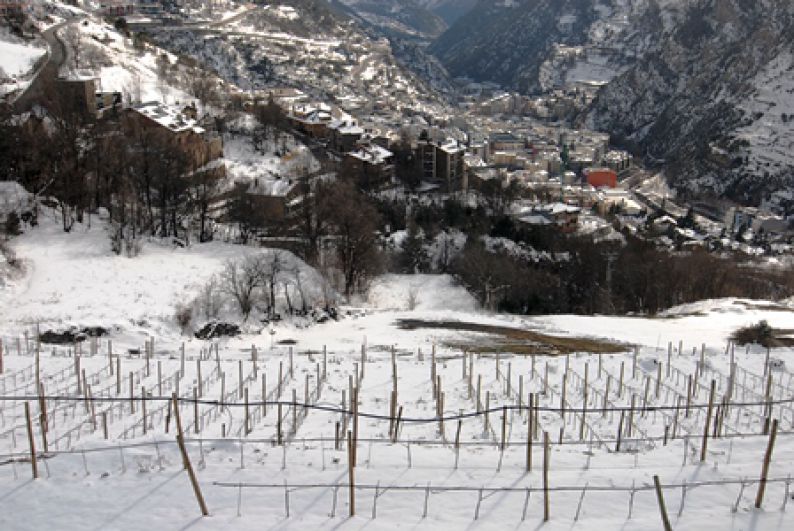 Few people would associate Andorra with wine. And yet, it would seem more than natural that the Principality would produce wine, if you consider some of the conditions for quality wine production.
First of all there is the latitude. Andorra is famous for its snow and cold, but it lies at a much lower latitude than Switzerland, a country known for its good white and red wines, among other things. Andorra is situated, in fact, on the same latitude as Tuscany which produces Chianti and Brunello.
It is true that Andorra is located in the middle the Pyrenees, but as I mentioned in a previous article, didn't Virgil say "Bacchus amat colles" - wine loves the hills? In Andorra there is no shortage of hills with all types of exposures and gradients. The country is in fact an immense mountain landscape with an average altitude of 2,000 metres and a minimum of 840 metres. The vineyards can produce good grapes on some well-exposed slopes in the southern part of the country, at altitudes below 1,250 metres.
The Andorran climate has Mediterranean seasonality, that of classic wines: summer coincides with the dry season. Of course, the cold, the rain and the snow arrive in Andorra long before they do in, say, Barcelona or Montpellier, and spring comes much later, but this is a problem that wine growers have been tackling for millennia by planting short-cycle grape varieties.
In fact, it seems that there is historical evidence that, over a thousand years ago, monks (those winemaking monks found throughout Europe), used to produce wine in Sant Julià de Lòria, Andorra's lowest-lying and southernmost town.
Here it has everything a wine country needs: the soils, the climate and the history. But until recently there was no wine. And we can perhaps figure out why…. Wine growing requires hard work and takes many years to deliver a return on investment. People invest in vineyards either when the land cannot be used for a more profitable purpose, or when they have plenty of money and such a love of wine that profitability criteria are a secondary consideration.
Neither of the above two conditions existed in Andorra before the 21st century (although there has been token activity for a fair few years). In the 20th century, the growing of tobacco was highly profitable, thanks to the Principality's peculiar policy of being a tax free haven between France and Spain. The steepest slopes were better left as pasture land, as much more money could be made from trade, and then tourism. In terms of the second condition, Andorra now has a thriving economy, which creates the right context for some pioneers to devote their time and money to wine.
The wine of Andorra can be good or bad, but it can never be cheap. The rugged landscapes and extreme climate require that the wine sells for a decent price. Fortunately, Andorran society includes people able to afford them, so Andorra now boasts a fledgling high-end wine industry of exciting diversity. There are only four wineries, all of them small, and the only thing they have in common is the fact that they are all wine growers and vintners. There is no trading of grapes in Andorra - he who cultivates the vine, sells the wine.
Each producer shows his own personality and aspirations in his wines, rather than reflecting a terroir which has yet to be studied in any depth.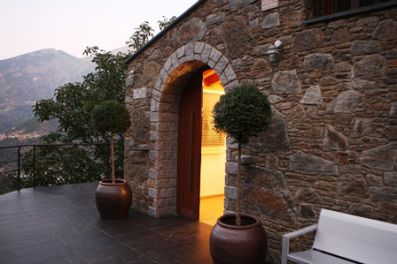 Entrance of Borda Sabaté´s wineryBorda Sabaté is the oldest and largest producer and the one which has invested most impressively. I had never before seen such a well equipped micro-winery as Borda Sabaté's, and their vineyards are also an example of superb work. These consist of several terraces, very patiently worked into very steep slopes, with well thought out exposures, in a location with a beautiful name and an even lovelier view, the Solà de Muxella. They make two wines, a Riesling they call Escol (fresh, balanced, direct and clean, to be enjoyed within 2-3 years), and a crianza red called Torb, made from a blend that includes the Cornalin variety from Switzerland and which shows its mountain origin in its vegetable and red berry overtones and stimulating acidity.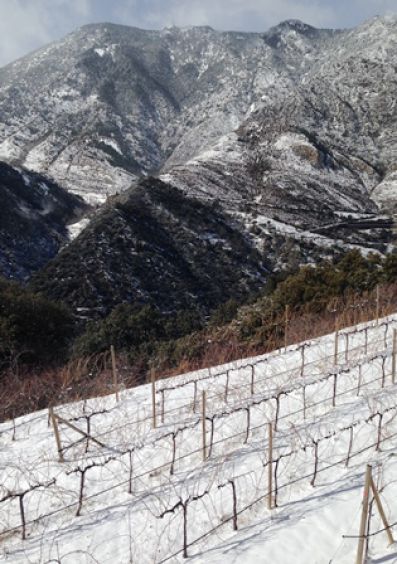 Snowed vineyards of the winery Casa AuvinyàCasa Auvinyà makes less than 4,000 bottles of three different wines. Its white, a blend of Albariño, Pinot Gris and Viognier has a beautiful aromatic definition, with a sapid apple and citrus finish. Of the reds, I liked the Pinot Noir 2013, called Evoluciò, which is delicious, open and expressive, not unlike a Burgundy in a cool year.
At Celler Mas Berenguer old habits die hard. One of its wines is called Cortò-Carlomagno and is, of course, a barrel-fermented Chardonnay. Its most successful wines are sparkling. The vineyard is very curious, filled with garden soil.
[IMG4L]I loved the only wine made by Casa Beal, called Cim de Cel, a pure Gewürztraminer oozing lychees and roses on the nose, with perfect acidity and a precise finish.
Four wineries, four styles, many wines, few bottles, perhaps a total of ten thousand throughout the Principality. A caprice for the wine taster, an opportunity for the country to showcase the products of its land, a dream for four wine-loving families, and warm appreciation from me. May they continue to push ahead creating Andorra, the wine country.
Recommended articles
Comments