Albret El Balcón Crianza scores 92 points at International Wine & Spirits Competition.
Albret El Balcón Crianza 2016 gets 92 points from the demanding International Wine & Spirits Competition contest. IWSC is one of the oldest wine competitions in
the world. It was created in 1969 and a host of relevant personalities such as sommeliers, Masters of Wine and journalists from the wine industry take part.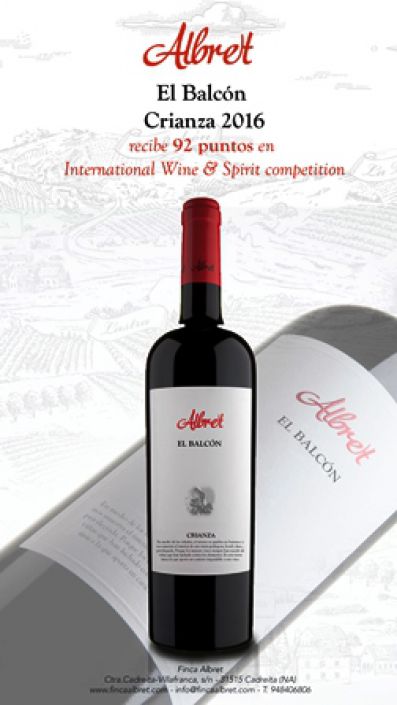 IWSC describes Albret El Balcón 2016: "Genial on the nose with a slight potpourri of dried black fruit and spice. Smooth, full-bodied mouthfeel with juicy black fruits and a lusciously welldefined finish".
This Crianza is a great red wine whose secret lies in Finca Albret's special terroir that tells the story of its origin. For example, the Tempranillo grapes used to make Albret El Balcón Crianza, come from the plot El Balcón, which means The Balcony in Spanish, a slope of vines that ends on the verge of a cliff on the Aragón River with breathtaking views onto the Ebro valley. In El Balcón, the vines receive the ideal amount of sun and wind which ensures the optimal ripeness and health of the grapes.
Making terroir wines requires painstaking care of the vineyard. Finca Albret's winemaking team therefore combines the traditions of Navarra with sophisticated techniques, both on the vineyard and in the cellar.
The nature of these unique vineyards have brought along excellent reviews and ratings from magazines. For example, Guía Peñín rewards all the wines from Finca Albret with excellent scores in its last edition. As does Falstaff magazine. And Albret La Viña de mi Madre Reserva has also won a Gold Medal in Berliner Wein Trophy contest this year.
Recommended articles
Comments