Valbuena 5th year - Vintage 2005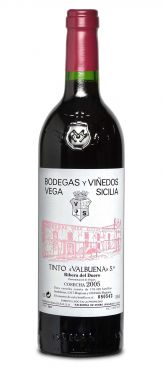 86.00 €
Price suggested by:
(Vega Sicilia)
Red wine
(Tinto fino 88%, Merlot y Malbec 12%)
There is undoubtedly no winery in Spain that combines the words quality, history and exclusivity better than Vega Sicilia. Don Eloy Lecanda in 1864 could little have imagined that almost a hundred and fifty years later, the wines of the bodega he founded would have become some of the most outstanding iconic reference points of the international wine-making scene. Their wines are always synonymous with elegance, maturity and concentration. This is the foremost classic Spanish winery for any connoisseur.
Appearance
Intense dark cherry red of high density, clean and bright.
Nose
Shy at first, gradually opening up to give way to black fruits, very concentrated toasty aromas, hints of black pepper, cloves and nutmeg. Comes over well given time in the glass.
Palate
Balanced. Rounded tannins, pleasant entry, plenty of volume yet very elegant. Long finish with very fruity notes still showing and light touches of well-integrated wood.
Remarks
A house's "little one" is undoubtedly always a safe bet. A prelude to what its older brother has in store, Valbuena is from very noble stock. Structured, mature, well turned-out and elegant. It still needs time in bottle to show its full potential but it is clearly on the right road. Much more classic than some of its neighbours, Valbuena is a wine that is well suited to grand dinners with a high protein content, and game meats such as woodcock and roasts certainly offer a great opportunity to enjoy it.
Serving temperature: from 16 to 18º C
Recommended glass: Riedel, Sommeliers Collection, Tinto Reserve glass
Composition: Tinto Fino 88%, Merlot and Malbec 12%
Ageing: 5 months in 20,000 litre medium capacity wooden tanks. 15 months in new barrels (60% American oak, 40% French oak), 4 months in wine-prepared barrel and finally 3 months in large wooden vat.
Comments