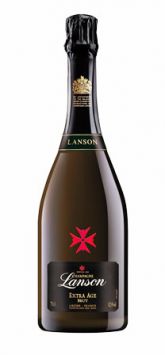 48.00 €
Price suggested by:
(Champagne Lanson)
Champagne
(Chardonnay, Pinot Noir)
Lanson was founded, as Delamotte Père & Fils in 1760, by Francois Delamotte, and is one of the oldest maisons de champagne. The champagne house only gained its Lanson Père & Fils name in 1837.
Lanson is supplied from 800 hectares of vineyards growing the three main Champagne grape varieties. The basis of their champagne style lies in the art of blending. The champagnes are characterized by their finesse and by the fact that the base wines do not undergo malolactic fermentation, thereby preserving the fruit aromas, freshness and crispness of the champagne.
Appearance
Pale gold. Fine, slow moving bubbles.
Nose
Very expressive, with powerful aromas of ripe citrus fruit with toasty and biscuity notes.
Palate
Full bodied, dominated by fruitiness and freshness. Fine, delicate structure, with excellent acidity on the palate. It reveals retro-nasal aromas of dried nuts and pastry.
Comment
This champagne revives the style of the late 19th century champagnes and is Lanson's chef de cave, Jean Paul Gandon's, tribute to that spirit. Back then, red grapes were preferred, so this Extra Age contains a predominantly Pinot Noir (60%) base wine, and a balance of Chardonnay (40%), both from vineyards classified as Grand Cru and Premier Cru. It is a non-vintage champagne, although it includes reserve wines from only three harvests: 1999, 2002 and 2003, and has been aged a minimum of 5 years in the cellar. The final touch is provided by the liqueur d'expedition which, to respect the 19th century spirit, is also primarily contains Pinot Noir wine.
The result is a champagne which is fine and more delicate than it is powerful, full of subtle aromas, smooth on the palate, crisp, and showing remarkable ageing potential
Recommended with duck roasted in its juices with apple sauce.
Glass by RIEDEL, GRAPE collection, CHAMPAGNE model.
Comments