Jacques Selosse Grand Cru Extra Brut Millésime 2003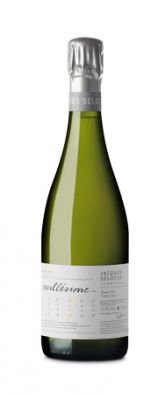 330.00 €
Price suggested by:
(Jacques Selosse)
Champagne
(100% Chardonnay)
Drum roll please for this boutique Champagne house, the author of an uninhibited Champagne which has attained cult status mostly in the last decade, little by little. Located on the slopes of the village of Avize, its small production is a far cry from the glamorous, glitzy Champagnes which abound in the region. Anselme Selosse is considered a total outsider by many, but for others he is simply the creator of distinctive, luscious Champagnes. Behold the magic of his products which are critically acclaimed, in increasing demand from less conformist drinkers and jealously guarded in the wine cellars of the world's best restaurants. His secret? Produce full-bodied Champagnes with an oxidative character, respecting biodynamic principles which let the earth speak, and which are simply impossible to forget once you have tasted them. This is no small accomplishment and a growing number of producers in the region are following suit. Welcome, then, to the Selosse method.
Appearance
Deep golden hue. Clean and bright. Tiny beads.
Nose
Enormous intensity. Typical oxidative aromas, the unmistakable hallmark of the house, wilted flowers combined with notes of baked apple and dried nuts. Saline and mineral backdrop.
Palate
Grandiose, with a big frame offset by good acidity. Fine, well integrated CO2. Dried nut and ripe fruit flavours. Very long on the palate.
Comment
This 2003 vintage champagne is one of Selosse's most personal and boldest Champagnes and comes from two parcels of old vines, Les Chantereines and Les Maladries, in the Avize Grand Cru area. It is still young and needs time in bottle to realize the immense potential within. With its vinous and oxidative style, it is totally unlike any other Champagne or sparkling wine in the world. It is one of the most revolutionary Champagnes around and highly sought after by fans across the world. Try it simply with some delicious Jamón Ibérico from Guijuelo. Enjoy!
Glass by RIEDEL, VITIS collection, OAKED CHARDONNAY model
Comments