Isabel Brunet: "A sommelier is a wine manager, not just a taster"
Wine, food and good fare are three concepts that are totally inseparable for sommelier Isabelle Brunet and which have always stayed with her, ever since she began helping in the family restaurant aged 10 years old. She has a stack of knowledge about terrain, from her experiences of travelling all over the world discovering vineyards and wineries. For Isabelle wine is a food, a product of the countryside for all to enjoy, without expensive labels or disproportionate elevation to a snob value product. This experienced sommelier offers her knowledge at Monvínic, a project bearing the supportive patronage of Sergi Ferrer-Salat, which has become a benchmark wine bar. With her passion, dedication, experience and discovery, Isabelle conveys the sort of respect and love towards wine that immediately awakens the need to uncork a bottle.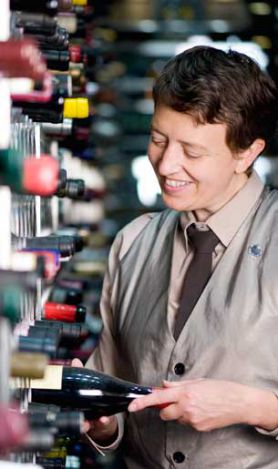 What was your first contact with the world of wine?
As a child, my parents had a restaurant and from the age of 8 years old I was already familiar with cooking and wine. The way I was brought up, a meal was always a big event, with food and wine as inseparable elements. At 12 years old I was drinking wine with water and at 14 I started being a waitress in the restaurant. I can't imagine a good meal without it!
In an interview on Robert Giorgione's blog you talk specifically about your parents' restaurant (Chez n'Zot) in Poitou (France) and explain that it was your younger brother who started out as a sommelier. How did you arrive in Barcelona?
It's true that my brother began the sommelier course while I was working as a waitress, and then later on I studied for the WSET. Afterwards, I decided to learn languages and travel round the world getting to see vineyards and wineries. After 5 years in London, I flew out to work in Australia, passing through other places such as Portugal, Spain, South Africa, New Zealand, Tasmania, Oregon, California, Cuba (the cigars)... After two years discovering wineries, I returned to Spain in 2000 because my brother was here and we've always been especially close. I began working as a waitress at the Tragaluz and then they took me on as sommelier at El Bulli.
What experience did you take away from your two years at El Bulli?
Very exciting, there was something in the air at that restaurant; there was a feeling of creativity, passion, a real gift. The truth is, seeing people's faces lit up and enjoying themselves at the tables made it an unforgettable experience.
Is being a sommelier a man's job or are women less in the media?
There are many women who are sommeliers, I suppose it's cultural. In English-speaking countries it's more common to find women in the wine sector, and Jancis Robinson for example was already a Master of Wine in the 1980s. Being a woman has never been a problem.
About Isabel Brunet
Sommelier at El Bulli (2000 - 2001)
Sommelier at LAVINIA (2001 - 2004)
Sommelier at Monvínic (since 2008)
Best Sommelier of the Year (2011) at the Wine Markets and Distribution Awards
Why does the general public view the wine world as so remote?
It's being held back by people who elevate wine to something snobby and elitist, as though in-depth knowledge was needed to enjoy it, as though understanding wine was a real talent. But in the end, it's nothing more than a healthy drink and accessible to all if you're receptive to your own feelings.
One of your great experiences in the field was at the Australian winery, Bass Phillip. How did that come about?
It was thanks to Sergi Ferrer-Salat; before giving me the wonderful opportunity of starting at Monvínic, he remarked that it would be interesting for me to work in a winery and allowed me choose. I'd been very impressed with Phillip Jones' Pinots, so I went over to work for six months to find out how they made the wine I was so excited about. I worked at pruning, in the winery, even on the tractors, it was quite intense, varied and I learnt a lot. Working on the land made me feel closer to the wine and nature. This winery only sells in Asia and Australia, and its Pinot Noirs can very often get right through to your heart and soul.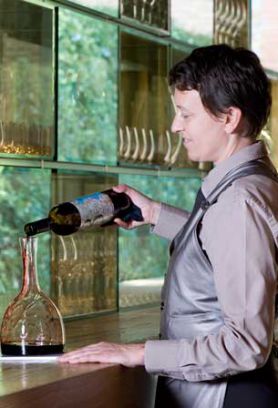 How did you get to Monvínic?
In 2004, when I was at LAVINIA, Sergi Ferrer-Salat discussed the idea with me. Then it was just a matter of setting up the project and finding the means to make his dream, his idea, become a reality. We worked together to make the philosophy and concept of an objective along those lines comprehensible, and since he's a great communicator, we moved forward gradually but with dedication and patience.
Sergi Ferrer-Salat is the creator of Monvínic, which is described as a place promoting wine culture, and for all sectors of the public?
People come who want to, generally those curious to try it out. The contents of the wine list impresses some, while others come for something specific or because they don't know the wines. We have a digital list, so that it's great fun filtering information through, including maps and the producer's photo. It's a good way for people to travel without taking a plane and discover a wine area and its key figures.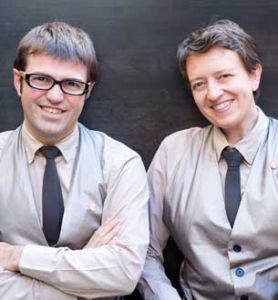 How has the wine selection been done and kept up to date?
We are 7 sommeliers working under the direction of César Cánovas. We've split the world up amongst us, so to speak, and we each undertake to keep our countries covered; many brand names are unknown, but they are the best wines representing their region. For example, I look after France, and César Canovas covers Central Europe, Austria, Switzerland, Hungary, Lebanon and Israel among others.
The list is kept right up to date, and in the four years we've been going we've offered around 6,000 brand names and we always have a minimum of 2,500 available. Apart from helping us with our database, which has details of more than 20,000 wineries and obviously more wines, we can count on the individual knowledge of our colleagues, keeping informed with guides and magazines.
On the website it talks of wines from 23 countries. Can you give examples of places of origin which the general public are unfamiliar with?
Not so much now, but 4 years ago people were surprised that we had wines from Slovenia, Greece, even Switzerland, that produces wines mainly for its own consumption, but César Canovas has made a selection representing most of the wine-growing areas.
How do you obtain bottles?
We buy from professional wine merchants in the country of origin and, for countries like Argentina, Chile and Australia, from importers in England. Few people do it in Spain, perhaps it's now on the increase, but it's more complicated; a lot of care has be taken over transportation and the customs situation, and therefore it's slower. But there is an additional benefit, as we have wineries that are importing, which is of immense value, since you can come to Monvínic and try a wine which only we have. Buying like this is complicated, and in fact we can wait for months and even a year to have certain bottles. A sommelier is a good agent for a winery, and by supplying your own knowledge you can have a personalised list with a greater sense of identity.
What do you most like about your work at Monvínic?
After travelling and gaining experience over 20 years, this project has meant so much to me. Also, working in line with Sergi Ferrer-Salat's philosophy and with a team like this is an absolute joy. Monvínic has an open outlook and I like that, since wine for me is worldwide – you can open a Rebula from Marjan Simçic in Slovenia, or a Pinot Noir from the Leyda Valley in Chile and you're transported to two totally different worlds but with wonderful people.
In 2010 the Fastvínic unit opened. What does it entail?
Sergi Ferrer-Salat has always liked the concept of fast-food but using quality products, so combining these two ideas we created a location where you can eat sandwiches made there and then and with local products. Respecting the Zero Food Miles philosophy, wines from Cataluña are offered. Also, we have some refrigerated wine vending machines at the ideal temperature, which is a great idea for drawing in a wide variety of people.
Quick wine test
A winery with a great product:
Domaine Plageoles in Gaillac www.vins-plageoles.com
A special grape variety:
Pinot Noir.
A glass of wine should be accompanied by:
Food.
For you wine is:
A taste of nature.
Recommended articles
Comments