Gramona Enoteca Brut Nature 2000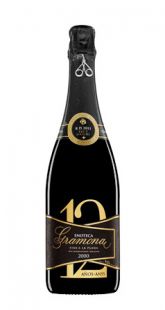 110.00 €
Price suggested by:
(Bodega Gramona)
Gramona is a fine example of how a family winery should be run. Jaume and Xavier Gramona, with their deep seated roots in the cava world, have clearly defined views. They have managed to grow the company and position it as a major reference among the "author's cavas" of today. Their cavas undergo the longest average ageing in the industry and they continue to use the cork stopper for their longest aged cavas.
In addition, Gramona has been working all of its vineyards organically for some years and more recently has been respecting biodynamic principles. Its penchant for the Xarel.lo grape is also interesting. This white variety has more resveratrol, the antioxidant that promotes slow oxydation and long ageing.
Appearance
Deep golden yellow. Very fine bubbles.
Nose
Extremely complex. Aromas of dried peaches against a backdrop of wilted white flowers. Elegant notes of toast, quince and nuts from the cava's "noble reduction" and long ageing. Mineral smoky aromas.
Palate
Creamy and dry. Very well put together and providing a surprising sensation of citrus on the palate. Fine, smooth CO2. Retronasal candied fruit and aromas from its ageing. It continues to grow over the finish.
Comment
This is a fine example of the bodega's capacity to take long ageing as far as it can go and to interprete classicism with an "author's" approach. It is one of the longest bottle-aged cavas in Spain (12 years) and therefore one of the most complex, fine and expressive cavas on the market today. It shows an extraordinary "reduction" character, displaying a broad array of aromas which unfold gradually on the palate. It is a perfect illustration of the individuality of the land and the environment from which it originates, as well as the characteristics of the Xarel.lo grape variety.
This is a really exciting cava from a single vineyard (La Plana), which should be saved for special occasions.
Try it paired with a free-range roast chicken with apricots
Glass by RIEDEL, SOMMELIERS collection, RIESLING GRAND CRU model
Comments