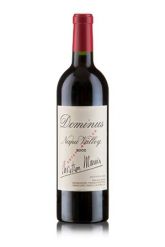 150.00 €
Price suggested by:
(Dominus Estate)
Red wine
(Cabernet Sauvignon 85%, Merlot 15%)
Christian Moueix is the son of one of the most famous wine merchants in Libourne, gaining control over a period of time of grand chateaux such as Petrus and Trotanoy. In 1982 he began his California adventure and became involved with the Napanook winery which came into his sole possession in 1995, and consequently the Dominus State name was officially established, which would be defined by the Bordeaux style of its wines throughout the Napa Valley.
Appearance
Garnet red, very distinct, and of medium density
Nose
Very fragrant and pronounced. Aromas highly characteristic of a mature Cabernet Sauvignon. Definite hints of roasted red pepper, fine wood and sweet toasty notes.
Palate
Fine and delicate, elegant passage through the mouth, recalling a warm vintage year Claret. A touch dry on the finish and of medium length.
Remarks
An excellent joint venture with a shift of powers on the part of the Moueix Group in California. Dominus 2000 is ready for drinking now and brims with Bordeaux style in every sense. Quite over the top as regards its many aromatic qualities, this is a wine that truly delights due to its robust expression on the nose. It is well capable of playing the role of the perfect companion at a barbecue for friends who are keen to get to know a foreigner from the New World.
Serving temperature: from 16 to 18º C
Recommended glass: Riedel, Sommeliers Collection, Tinto Reserve glass.
Comments