Clos des Fées Vieilles Vignes Blanc 2013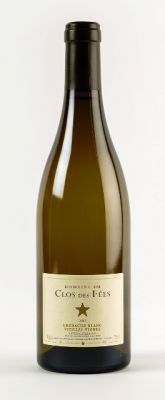 18.00 €
Price suggested by:
(Le Clos des Fées)
White wine
(94% Grenache white, 6% Grenache gray)
If we were to ask you to name some of the most well known wine domaines in the south of France, Domaine du Clos des Fées is bound to be among them. The architect of these wines is Hervé Bizeul, who is also a sommelier, restaurateur and a food and wine writer.
They currently have 30 hectares of vineyards, planted exclusively with the typical Mediterranean varieties, in order to produce wine which embody the personality, landscape and terroir of the area, without these being masked by non-local grape varieties.
They grow their old vines biodynamically, in areas of great geological diversity, and each parcel is vinified separately in small vats using indigenous yeasts. Hervé and his wife, Claudine, base their winemaking on a search for the best terroirs and on meticulous vinification work, in order to create their ideal wine, which is fruit-intense.
Appearance
Intense bright yellow. Dense, slow-falling tears.
Nose
Aromas of white fruit and stone fruit over soft hints of butter, giving way to a festival of Mediterranean notes such as garrigue scrubland, thyme, fennel and rosemary.
Palate
Good attack, meaty with light simultaneous sweet and bitter sensations, and underpinned by a nice acidity. Very deep with a distinct personality on the finish.
Comment
We believe that if you could bottle a landscape, the result would be this Clos des Fées white wine. It is produced from the domaine's oldest vines, mostly Grenache blanc with some Grenache gris, growing in clay-limestone soil, and barrel-aged on the lees for about 5-6 months.
Eschewing the maderized and oxydative style of some wines made ​​from these white varieties, this "vielles vignes" is ebullient, big and smooth but balanced by excellent acidity. On the nose, we find aromas of stone fruit such as apricots and plums, green apples, garrigue scrubland, thyme honey, and a strong mineral expression.
Recommended with stewed cuttlefish with peas and mushrooms.
Comments