Bodegas Palacios Remondo. Soul, tradition and passion in the east of La Rioja
The Palacios Remondo winery fits into a setting that boasts more than 2,000 years of wine-growing tradition and culture. Located in the Riojan town of Alfaro, its 110 hectares produce personal wines bearing the signature of the highly regarded and famous Álvaro Palacios. The freshness of La Vendimia, the maturity of Plácet, the classicism of La Montesa and the liveliness of Prop ges. Its wines exhibit an affinity for traditional viticulture in the natural surroundings of the Monte Yerga vineyards in the municipality of Alfaro and the soul, charisma and personal hallmark of Álvaro Palacios.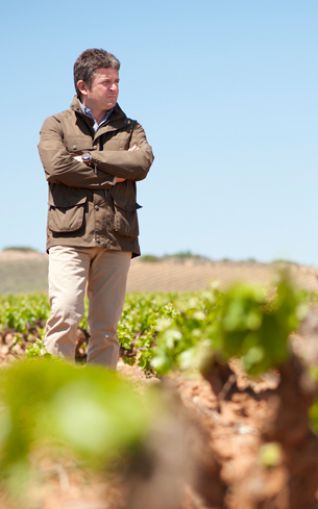 Alvaro Palacios in his vineyards
A winery embodying a person
Álvaro Palacios, now in itself a brand name of quality and commitment, conveys his emotion, passion and soul in each and every wine he makes. He belongs to the fifth generation of a family dedicated to wine and has been in charge of Palacios Remondo since the year 2000, when he took control of the business after the death of his father.
Álvaro Palacios relaxes whilst taking a walk round the vineyards, enjoys having contact with the land and tells us it was in 1945 that his parents took a different line from their predecessors and built their own bodega: "My father was a romantic entrepreneur; we are alike in having that passion for work and a side that's more appreciative of the elements".

With pride and passion Álvaro Palacios shows us the vineyards of his Alfaro estate, in the east of La Rioja, and conveys to us his love for the land and the wine: "I'm very happy working in this region, I'm enthralled by the tranquillity of the area here".
La Rioja is one of the Spanish regions with a considerable wine-growing tradition, as Palacios recounts, and with expert knowledge of the local history he talks to us about secular vine cultivation and the pre-eminence it had in the 19th Century, due to the influence of the aristocracy, and its growth and importance over the years.
Old vines and indigenous grapes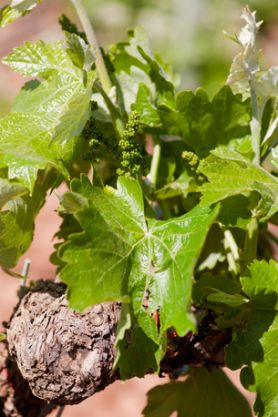 Vineyards of the Palacios Remondo wineryLa Rioja is very often associated with the Tempranillo grape variety, but obviously a region with such a wine-growing tradition cannot focus exclusively on one type of grape. In the south-east of La Rioja, the climate enjoys a more pronounced Mediterranean influence, and throughout the centuries nature has chosen the Garnacha Tinta grape as this region's premier variety.
The Garnacha develops a long vegetative cycle keeping pace with the drier, brighter geoclimatic conditions, and for Palacios this results in "a variety that transforms what is arid and torrid into a refreshing, vital fluid". The truth is that this conjurer practised in the art of winemaking is capable of extracting the best from grape varieties and their landscapes in order to make unique products of renowned international prestige.

Respect for the land, nature and indigenous varieties means that Palacios Remondo is a winery that tries to interpret each vintage with the utmost transparency and purity. Vine cultivation takes place naturally, without using any chemical treatments, in an effort to obtain sound fruit and every process in the winery is carried out very carefully, without the addition of foreign yeasts, and preserving the wine so that the fruit pulp is predominant and its skin smooth, trying to ensure the wine attains its most sublime state. This non-invasive and respectful process passes through to the wines, as Álvaro Palacios explains: "it gives a special spark; the wine now thrills with more depth; it gets to pick up more attractive, delightful features and spiritual mystery".
Poetry in a bottle

"Soul, classicism and pride", the La Montesa red is one of the flagships of the Palacios Remondo bodega, a wine capable of conveying the harmony of the countryside, the soul of its meticulous care and the brightness of the area. With a smooth fruit texture, it flows harmoniously through the palate. A wine awarded 90 points in the 2011 and 2010 Peñín Guides, but more than any score, its true value lies in the attention to the vines and the involvement of Álvaro Palacios with an input of essence in this red wine made with 65 % Garnacha.
It is a wine that stands out proudly as an example of the winery's passion, and the ageing it undergoes heightens its intensity, getting right through to the consumer's heart. Its perfume has an attractive vitality, bringing to mind orange peel and grapefruit amidst cherries, plums, peaches, fresh figs, along with roses and carnations in bloom.
Restoring the fortunes of the Riojan white

In the Montesa vineyard grow Viura vines for making a white wine with personality, called Plácet, the pride of Riojan whites, which can't fail to impress with its maturity, sensuality and that thrilling sensation it imparts when tasted. This is an example of how Álvaro Palacios has been able to restore the fortunes of the Riojan white from its low status with a personal product distinguished by its great nobility.
Plácet is made following age-old methods with fermentation in 2,000 litre large French oak casks which bestow its characteristic unctuosity. Its pale golden hue is truly delightful, and equally so are its depth and purity. In short, the Palacios Remondo winery is right to say that "there's a mirror in the very midst of the Rioja Alta's at the Monte Yerga in Alfaro".
The youth and maturity of the reds


We find youthfulness represented by La Vendimia, a refreshing red that is both lively and very energising, made from Garnacha and Tempranillo in equal measures. Its aroma reminds us of walks through the Mediterranean countryside, and we love its depth, and will be truly amazed by its light but clearly-defined personality. It is an example proving that youthfulness in wine can be linked to quality, refinement and freshness.
Meticulously cared for and the product of several traditional vineyards comes Propiedad, a 100 % Garnacha red Crianza. The terroir, winds and altitude endow it with a particular suppleness, but it is the old Garnacha vines that give it a subtle musical quality to be enjoyed by the senses. As regards maturation, Propiedad undergoes a classic-style ageing with 14 months in French oak, and this is when its character opens up and its finesse is attained.


The winery's future
Straightforward and modest could well be two adjectives used to describe Álvaro Palacios, who never ceases in his creative zeal to continue making great wines. It is this deep interest and vocation for continual development and conveying his passion through his wines that have led him to plant and acquire new vineyards in Alfaro. For example, he discovered Valmira, a vineyard at a height of 640 metres where we come across grapevines over 30 years old grafted with indigenous Garnacha, which surely in a few years time will bring forth a new great wine bearing the Palacios signature.
We also find 42 hectares of vineyards looked after in the traditional way and surrounded by almond trees to preserve the environment. For Álvaro Palacios the challenge here "is to make a very great wine, but the vineyards aren't old enough yet, so perhaps my daughter will make it". Planted in this vineyard too are vines that come from l'Ermita, the vineyard which Álvaro Palacios owns in the Priorat (Tarragona) and from which originates the exclusive wine of the same name. This all results in a constant urge to discover, create, learn about, respect and love wine, along with everything that surrounds it.
Recommended articles
Comments