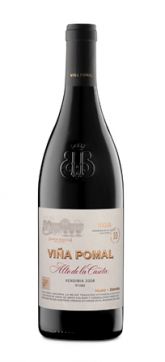 60.00 €
Price suggested by:
(Bodegas Bilbaínas)
Red wine
(Tempranillo 100%)
Bodegas Bilbaínas is part of Spanish wine history and an institution from the 'la estación' neighbourhood of Haro. Founded in 1859 by a French wine company, it passed into the hands of a group of friends "from Bilbao" in 1901, hence its name today.
It is considered one of the area's most classical wineries, producing well known brands such as Viña Zachus and Viña Pomal, although, since its acquisition by the Codorníu Group in 1997, it has undergone come changes due to its modernization, and is now producing more concentrated wines with less oak, such as La Vicalanda.
However, the new team, made up of Natalia Olarte, head of viticulture, and Diego Pinilla, the bodega's technical director, has been investing its time and attention on a new wine, Alto de la Caseta. This is a super wine which truly expresses the unique Viña Pomal terroir and the savoir-faire of this old bodega.
Appearance
Beautiful, very intense cherry red hue with a bluish tint.
Nose
Very fragrant, with ripe black fruit and sweet spices, cloves and nutmeg, infused with elegant notes of leather and roasting.
Palate
Powerful and well-structured. Loads of fruit on the palate with thick tannin combining perfectly with an enveloping acidity, which gives this wine great intensity and elegance with a very long aftertaste.
Comment
Once again, this classical bodega from the Rioja Alta, is boldy modernizing with a contemporary wine made ​​from Tempranillo grapes grown in its flagship vineyard, the Alto de la Caseta. The soil is stony with a loose, poor structure. In this ideal environment for the vine, the integrated, sustainable viticulture they practice is overseen by the company's most experienced staff.
Right now, the Viña Pomal Alto de la Caseta 2008 is the best example of the revival underway at this iconic company. It is an estate wine, produced in very small quantities, distinctive for its powerful, fruity expression along with elegant oak which gives it a very modern cut.
Spectacular paired with a boar steak served with a sloe sauce.
Glass by RIEDEL, VINUM collection, TEMPRANILLO model
Comments