Viña Albina Gran Reserva 1998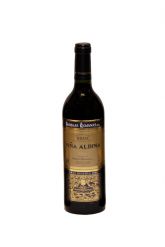 25.00 €
Price suggested by:
(Bodegas Riojanas)
Red wine
(Tempranillo 80% Mazuelo 15% Graciano 5%)
Bodegas Riojanas is a wine-producing group with more than a century of history that belongs to the highly respected body of classic wine-growers in Spain. Founded in 1890 with the purpose of bringing together wine-growing families from Cenicero (Rioja Alta), it was established and given specialist advice at the beginning by French experts. Over time it strengthened its position as one of the most emblematic houses in La Rioja, creating such well-known brands as Monte Real and Viña Albina. Nowadays the company is quoted on the Stock Market and has extended its property portfolio to take in other denominations of origin including Toro, Rueda, Rías Baixas and Cava too.
Appearance
A fully-developed ruby colour with brick red hues on the rim and of low to medium density
Nose
With a predominance of ageing notes and some evolution, there is clear evidence of spice aromas, like cloves, nutmeg and cinnamon, and the classic aromas of cabinet-making, cedar and old leather. Overall it is pleasant but clearly evolving.
Palate
Very delicate, smooth and polished. Notes exhibited on the nose reappear with touches of tobacco, red fruit rather distant, and a finish with just the right amount of acidity.
Remarks
A wine that from start to finish corresponds to standards fitting the definition of classicism in Rioja wines. Classic in aroma and classic in flavour, it gives what one might expect from a wine that has spent a minimum of 30 months in barrel, comprised of the denomination's classic blend. Timeless wines that show us the path set out along more than a hundred years ago and which remain faithful to a style and a way of understanding oenology. A very respectable wine that will endure as such in the collective imagination of all consumers over the age of 35. A suitable wine for serving with more traditional dishes such as those based on vegetables, potatoes Rioja style, roast lamb and slow-cooked stews.
Serving temperature: from 16 to 18º C
Recommended glass: Riedel, Vitis Collection, Pinot Noir glass.
Comments