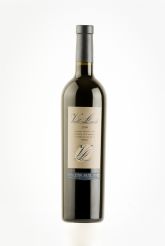 58.00 €
Price suggested by:
(Celler Vall Llach)
Red wine
(65% Cariñena, 20% Garnacha, 15% Cabernet Sauvignon)
This bodega was founded in the mid-90's in the magical town of Porrera, Priorat, by singer Lluís Llach and Enric Costa, who passed away recently. They released their first vintage in 2000 with a trio of wines, well recognized by wine enthusiasts familiar with this region's modern classics. To these they recently added a fourth, "vila" (village wine) red wine and a white wine which is totally unique, as Priorat whites often are. The 2013 has gained the highest distinction awarded to a Catalan wine, making cuvée Vall Llach 2010, a Vino de Finca Calificada (Qualified Estate Wine). They have always worked to high standards of quality, preferring to produce tiny volumes on all their estates. Currently, their wines are among the most well regarded wines from Spain in terms of quality and have positioned the D.O. As one of the most significant wine regions in the world. The winemaking is headed by the well-known figure of Sal·lustià Alvarez.
Appearance
Dark cherry red. Very intense colour. Dense in the glass.
Nose
Sweetish, very expressive. Very pronounced black fruit aromas followed by rather toasted notes. Milk chocolate, cinnamon, burnt caramel.
Palate
Full bodied on entry, extremely tasty with a pleasant fruity character. Rather boisterous tannin, needs a little more polishing in the bottle. Extremely long.
Comment
There are only 5,800 bottles available of this superb red wine which always shows a strong, forceful character which is much more apparent than in other Priorat wines of its rank. Although the 2009 vintage was considered very good and very consistent, this 2009 appeared to us to be more mature than usual. It is robust and full of flavour, much more concentrated than in other years, and should perhaps spend some more time polishing in the bottle because this much intensity is slightly overwhelming. With a very pronounced Carinyena base, this wine has been aged for 16 months in French oak and comes from a careful selection of old vines along with a few younger vines to round off this thoroughbred wine. It is not easy to pick out a specific food match but it should definitely be a hearty dish and one able to stand up to this rampant specimen.
Glass by RIEDEL, VINUM XL collection, SYRAH model
Comments