Taittinger Millesimé Grand Cru 2006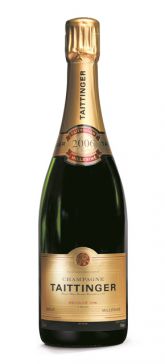 54.00 €
Price suggested by:
(Champagne Taittinger)
Champagne
(50% Chardonnay, 50% Pinot Noir)
Taittinger is undoubtedly one of the Grandes Maisons of Champagne, due to the historical importance of its impressive cellars dug out in Gallo-Roman times. The buildings above it were constructed on the site of the Abbey of Saint-Nicaise, built in the 13th century and completely destroyed during the French Revolution.
The champagne house has managed to recapture its family spirit, endowing its champagnes with great personality and character. This is because a descendant of the family, Pierre Taittinger, bought Château de la Marquetterie from the American giant, Starwood, in 1931, thereby regaining ownership of the company.
Maison Taittinger is both an important owner and an important "négociant". It has 288 hectares of vineyards, located in the best "crus", and it purchases the finest Chardonnay from the Côte des Blancs.
Appearance
Golden yellow with fine, long-lasting bubbles.
Nose
Very good aromatic intensity with pronounced aromas of ripe fruit and white flowers with hints of fine pastries and mild spices.
Palate
Smooth on entry, with a delicious, creamy texture due to the fine, smooth CO2. Mature retro-nasal aromas of toasted bread and candied fruit. Nice maturity overall.
Comment
Taittinger Millesimé champagne is a blend of equal parts of Chardonnay and Pinot Noir from several vineyards. It is made ​​exclusively from grapes from the first pressing and a single, exceptional harvest.
This Champagne boasts great finesse and a fantastically complex array of aromas and flavours of ripe fruit, spices and toasted bread. A perfect yet subtle combination of structure, length and freshness, along with velvety bubbles. A faithful reflection of the 2006 vintage.
Recommended with wild sea bream in white wine sauce.
Comments