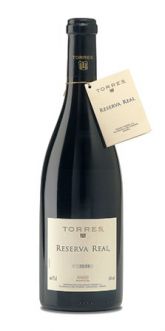 180.00 €
Price suggested by:
(Bodegas Torres)
Red wine
(Cabernet Sauvignon, Merlot, Cabernet Franc (no %))
At Selectus Wines we have been fortunate enough to taste various of the Torres family estate wines. To be honest we have always liked them and when we include them in blind tastings, they are often among the highest scorers. This Reserva Real was not going to be any different and of course, here it is. This wine was created in the 90's as a modest tribute to the Spanish royal family and has gradually become an iconic wine on the Spanish wine scene. It is often selected as an ambassador for Penedes red wines, specifically the Upper Penedes, where the grapes for Reserva Real come from. These grow on the Santa Margarita de Agulladolç estate, where a 12th century chapel watches over the dark slate earth with remnants of volcanic soils. Mainly Cabernet Sauvignon and Merlot vines flourish here and are complemented with Cabernet Franc of granitic origin in the final blend.
Appearance
Very intense, red mahogany with shades of brown denoting long aging. Bright.
Nose
Very fine, pronounced notes of wood aging. Tobacco, leather, spices and pickles gradually emerge, with ripe, red fruit with sweet notes hiding just beneath.
Palate
Soft and fine, with ripe fruit aromas overlaid with dark chocolate. Cloves and carob towards the finish. Long and still showing good acidity. Outstanding.
Comment
Just 4 hectares, just 6,000 bottles, and all the patience in the world is required to make this, a real wine for laying down. Without mincing words, Reserva Real is not a wine for every occasion and you have to be patient with it. But it's worth it. The 2003 comfortably carries the stigma of a hot year and has not suffered from it in the least. With almost a decade behind it, it is now in a very dignified phase and we trust that it will give us even greater joy over the next five years, at least, if not longer. Inevitably you regard these wines with a certain affection but, when the final judgment comes, give this wine the chance to grapple with a gastronomic banquet of roasts, stews and a whole host of Mediterranean ingredients. Uncork and enjoy it with the whole family present.
Glass by RIEDEL, SOMMELIERS collection, BORDEAUX GRAND CRU model
Comments