Quinta do Noval Vintage Port 2003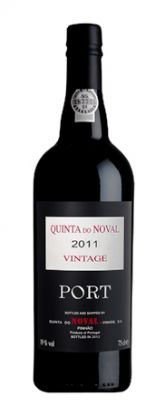 117.30 €
Price suggested by:
(Quinta do Noval)
Fortified wine
(Different red grapes)
The name of this property first appeared in land registers in the year 1715. After changing hands several times, after the phylloxera plague and following a devastating fire in 1981, the port house was bought by AXA Millésimes in 1993.
What sets this port house apart from most of the others, is the care given and importance it attached to the vineyards. Significantly, the company bears the name of its vineyard, located in the Douro Valley, and its main ports are single vineyard ports.
It should also be noted that Quinta do Noval's entire production continues to be crushed by foot in the stone "lagares" as in the past, but respecting strict vinification and hygiene conditions.
Appearance
Deep, opaque ruby/purple hue.
Nose
Exotic, exuberant perfume of blackberry liqueur, menthol, incense, graphite and liquorice, forming a very complex bouquet.
Palate
Concentrated and juicy, nicely balanced by sweet tannins and a velvety texture. It combines power and subtlety.
Comment
This Noval 2003 is one of the finest ports that the Selectus Wines' tasters have ever tasted, but it needs at least twenty years to reveal its full splendour. It is concentrated and elegant with fabulously jammy aromas of fruit and alcohol, menthol intensity and ripe tannins that carry it through to a dream finish. It expresses the characteristics of the Quinta do Noval terroir in a smooth, elegant style. We think it could become a legend, on a par with great vintages such as 1931, 1994 and 1997.
Recommended with a coulant au chocolat with violet ice cream and a liquorice/menthol flavoured sauce.
Glass by RIEDEL, SOMMELIERS collection, VINTAGE PORT model.
Comments