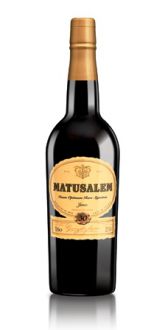 55.00 €
Price suggested by:
(González Byass)
Fortified wine
(75% Palomino, 25% Pedro Ximénez)
One of Spain's most important drops, this illustration from Gonzalez Byass is unambiguous. With its 170 year history, Gonzalez-Byass has been behind the creation of some real wine (and advertising) icons, recognizable around the world, such as the colourful Tio Pepe Fino brand, among many others. Currently, the Gonzalez-Byass business group owns several bodegas throughout Spain, controlling over 1,800 hectares of vineyards and managing a total production of over 49 million bottles of sherries, wines and brandies.
Appearance
Nice mahogany, slightly amber, hue.
Nose
A whole raft of flavours that run from dried nuts to more pronounced, sweetish toasted aromas such as fine oak, vanilla, toffee and brioche. Endless pleasure.
Palate
Drier than expected, it is potent, lasting a long time on the palate with flavours reminiscent of dried oranges, raisins, chocolate liqueurs and toasted almonds. A host of sensations.
Comment
A traditional oloroso from the collective imagination of generations since 1864, which is always made from sherry which has undergone over thirty years of aging in old Jerez butts. Time, patience and wisdom are the basic ingredients used to create this type of sherry considered a jewel worth preserving and upholding. These sherries are not "old" wines, as many erroneously believe, but "wise" and magical wines, with a great history. Slowly, unhurriedly and analyzing every sip, we can comprehend just how delicious these very sweet old olorosos can be, and particularly this one with its portending name, which caresses the palate, making us richer as we enjoy it. It tells us that there would be no better soundtrack to a selection of cheese than a good sherry. Rediscover a great piece of history, you'll find it edifying.
Glass by RIEDEL, SOMMELIERS collection, SHERRY model
Comments