Les Pezerolles Premier Cru 2009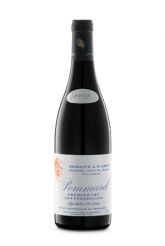 81.00 €
Price suggested by:
(Domaine A.F. Gros)
Red wine
(100% Pinot Noir)
Created in 1988, under the lineage of the Gros family, this domaine is managed by Jean Gros' daughter, Anne-Françoise Gros, and is completely independent of the domaines owned by her two brothers, Michel and Bernard. Most of the property is located in the village of Pommard, south of the Burgundy wine capital of Beaune, but there are also vineyards in other villages with different appellations of origin. The style of its wines could be described as modern and very accessible. The domaine practices total de-stemming and through the use of a sorting table and new oak it creates highly polished, ready to drink wines.
Appearance
Cherry red of medium intensity.
Nose
On the floral side at first, turning slowly earthy and spicy on the finish. Evolving.
Palate
Elegant with red and black fruit. Pronounced tannin with oak aromas which still need to knit in. Rich and powerful. Should be laid down for a while longer.
Comment
This Pinot Noir comes from a "climat", named Les Pezeroles, classified as a Premier Cru. This wine was born there and comes from a very good vintage, the 2009. The wines of the village of Pommard are renowned for possessing a certain power and weight which other wines from the region usually lack. They are often accused of being somewhat more rustic and less subtle. To be honest this did not seem to be the case with this wine, even though we could mention the pronounced youth of this vintage. It is a nice example of more accessible Burgundy which still needs time in bottle before it reveals a host of virtues but which Anne-Françoise Gros has put together in such a way that it can be easily enjoyed now without any problem. Excellent for novices to wines from the region without any of the frustration associated with the light character that many dislike from the Pinot Noir. Enjoy with cheeses, preferably cured, and grilled meat ... A Pommard does not back down easily!
Glass by RIEDEL, GRAPE collection, PINOT model
Comments