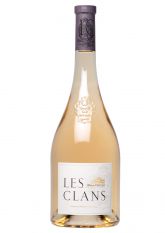 54.00 €
Price suggested by:
(Château d'Esclans)
Rosé wine
(Garnacha, Vermentino)
Château d'Esclans is a splendid 700 hectare property located in the La Motte area, north of St. Tropez, in Provence.
The Domaine's owner, Sacha Lichine, is the man behind the rosé revolution which has taken place in Provence over the last decade, placing them on a par with the great red and white wines, as well as on the front page of the world's most important food and wine publications. Working in tandem with Patrick Leon, Château Mouton Rothschild's former winemaker, this visionary entrepreneur has turned the property into a boutique vineyard (as he likes to call it), dedicated exclusively to the production of his fantastic rosé wines.
His top wine is called Garrus, and it is considered the most exclusive and expensive rosé in the world.
Appearance:
Very pale pink colour. Very clear and bright.
Nose:
Aromas of unripened red fruit combined with elegant floral and citrus notes, with hints of aniseed in the background.
Palate:
Delicate and fresh on the palate. Good acidity across the palate, making you want to go on drinking. The finish shows a very pleasant fine bitterness which lengthens the aftertaste.
Comment:
Rosé is the fastest growing wine colour in the world market, currently enjoying increasing demand and popularity. Les Clans is produced from a careful selection of the best Vermentino and Grenache grapes. The wine spends 10 months in 600 litre barrels on its lees which are stirred up (batonnage) twice a day, before the wine is later released on the market. This is a world class Rosé Grand Cru. An exclusive rosé with a white wine soul, which is remarkable for its floral subtlety and fluid texture. It is tremendously refreshing, without being acidulous, and shows exceptional depth. Les Clans is one of the highest quality rosé wines tried by the Selectus Wine panel, just one notch below the winery's flagship, Garrus.
Recommended with lobster risotto with parmesan.
Comments