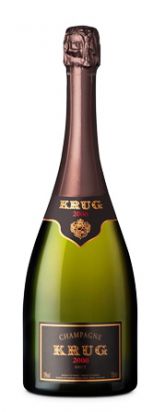 230.00 €
Price suggested by:
(Champagne Krug)
Champagne
(Chardonnay, Pinot Meunier, Pinot Noir)
Krug is the most famous and most sought after champagne in the world. It was named the highest quality champagne on the planet by Wine Spectator, and the French brand has now spent 18 years at the top of the rankings published by the world's most recognized wine magazine.
Krug was founded in 1843 and has its head office in Reims. It has 20 hectares of vineyards, which cover around 30% of its needs and these are complemented by the best grapes, supplied and guaranteed by the LVMH Group, to which it belongs. All wines are vinified in barrels from which, after long years of ageing, the Krug champagnes gain the wealth of aromas and complex flavours, which make up its distinct personality.
Appearance
Pale golden yellow. Very fine bubbles forming a delicate rosary.
Nose
Deep and complex with predominantly mature aromas from ageing: dried nuts, butter, exotic spices and very elegant, light touches of chamomile blossom.
Palate
Soft on entry, with a creamy texture and a full body which, despite its weight, loses none of its elegance. Retro-nasal toasty and nutty aromas. Very long finish.
Comment
Krug Vintage 2000 is the Maison Krug relating the story of the year 2000 to Krug Lovers. Three winemakers are responsible for this painstaking task, but the final touch is brought by the Krug family, whose ethos lies above all in the passionate pursuit of craftsmanship. Everything is strictly carried out by hand; harvesting, the all important blending, short ageing in French oak barrels before the second alcoholic fermentation in the bottle, where the champagne then spends at least 10 years acquiring the unmistakable Krug stamp. Art and patience in equal measure are used to create a champagne with a unique style and personality. Subtlety and elegance in a glass.
Recommended with Imperial Caviar, from the Asetra sturgeon in the Caspian Sea.
Glass by RIEDEL, SOMMELIERS collection, VINTAGE CHAMPAGNE model.
Comments