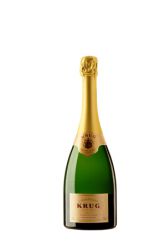 180.00 €
Price suggested by:
(Champagne Krug)
Champagne
(Chardonnay, Pinot Noir, Pinot Meunier (% not specified).)
Original Champagne from the luxury Maison Krug belonging to the LVMH Group. This non millesime or non-vintage cuvée is a puzzling compilation of 120 different wines from ten distinct vintages. This lovely amalgam succeeds in creating a unique and peerless product that manages to remain faithful to the canons of the house year after year, not without first spending at least six years in cellar.
Appearance
A bright golden yellow colour. Most abundant fine mousse.
Nose
Very clean, elegant and enormously complex. Fairly intense fruit aromas that bring to mind preserved yellow fruits. Delicate notes of toasted bread, dried fruits and butter biscuits.
Palate
Exceptional freshness with definite creaminess. Very noticeable citrus hints. Excellent carbonic acid integration that affords us a fine mousse with a pleasant and very pronounced finish on the palate.
Remarks
An extremely flavoursome Champagne for connoisseurs. The ideal Champagne for enjoying in company without needing to hold anything more ordinary than a dinner party with friends. It is the flagship par excellence of the Krug brand which takes us to another dimension in the sphere of sparkling wines. Unquestionably, a great product capable of awakening our senses. Due to its overall complexity, it permits numerous pairing options with all types of cuisine, but complex dishes including fish in sauces, scallops in cream, tuna with miso and also red prawns with kimchi could be great partners due to their exotic nature, since the fine acidity of this Champagne will accompany them perfectly.
Serving temperature: from 8 to 10º C
Recommended glass: Riedel, Vitis Collection, Riesling glass
Comments