Jean Marc Brocard Chablis des Vieilles Vignes de Sainte Claire 2011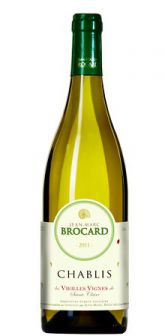 13.00 €
Price suggested by:
(Jean Marc Brocard)
White wine
(100% Chardonnay)
Domaine Jean-Marc Brocard is located in Préhy, a village of 140 inhabitants, 7 km from Chablis.
From 0.3 hectares planted in 1973, the Jean-Marc Brocard domaine today operates 150 hectares of vineyards located in all the Chablis denominations, with 60 hectares surrounding the domaine. Today Jean-Marc Brocard's second son, Julien, with brother-in-law, Frédéric Gueguen, are at the helm of the winery and vineyards.
What sets this domaine apart is its respect for the great tradition of Chablis wines. Respect for the environment, preservation of the character of each terroir and, more recently, biodynamic growing, encapsulate their way of working. In order to preserve the mineral character of its Chablis, the Jean-Marc Brocard domaine prefers to age in stainless steel tanks, rejecting oak which it believes is not required for higher quality.
Appearance
Straw yellow with golden tints. Very clean and bright.
Nose
Medium intensity with white stone fruit aromas,combined with grapefruit citrus and floral notes, against a smoky mineral backdrop.
Palate
Pleasant and full of flavour, with a crisp acidity that gives the wine backbone and freshness. The finish is slightly smoky and of average length.
Comment
This Sainte Claire 'old vines' comes from 60 year old vines growing on Kimmerigian calcareous clay soils, which are rich in minerals due to marine sediments and fossilized oysters from the Jurassic Period.
It spends time resting in contact with its lees in a stainless steel tank before being bottled, in order to develop greater complexity and a more pronounced bouquet.
This 2011 shows lovely finesse, freshness and a mineral character, the essential qualities of a good Chablis, attained through a careful selection of the grapes and perfectly controlled vinification.
Recommended with live oysters with Peruvian ceviche.
Glass by RIEDEL, GRAPE collection, CHIANTI /RIESLING model.
Comments