Henri Abelé Sourire de Reims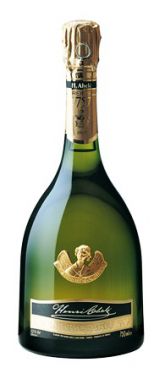 100.00 €
Price suggested by:
(Henri Abelé)
Champagne
(Chardonnay and Pinot Noir)
Founded by Theodore Vander Veken in 1757, the Maison Henri Abelé is the third oldest in Champagne. Its 250 year history, marked by prestige and innovation, is intertwined with the history of champagne itself.
The history of Henri Abelé is full of interesting stories.. It was the first champagne house to use the process of disgorging by freezing, still used today. It is also said to have been one of the six brands of champagne served at the last supper on the Titanic, before it sank on 14 April, 1912.
The champagne house is distinctive for two reasons in particular. The first is that it does not own any vineyards, but has contracts with trusted growers who are loyal to the company. The second is that It produces few bottles compared to the other traditional grands maisons de champagne.
Since 1985, it has been owned by the Freixenet Group, who have committed to maintaining and enhancing the prestige of the champagne house.
Appearance
Pale golden colour. Fine, slow moving bubbles.
Nose
Mature aromas of apple compote, butter and sliced toast, opening up to sweet heather aromas.
Palate
It shows finesse, with nice harmony between the fruit and the notes of pastry and toast. Balanced, with good acidity and a nice, intense finish.
Comment
The Le Sourire de Reims cuvée de prestige, is Henri Abelé's top champagne and comes from the highest quality grapes from vineyards which are all classified as premier or grand cru. This champagne is aged for seven years in the Henri Abelé cellars, and after disgorgement, remains there for a period of between 6-12 months.
The bottle design is a reproduction of one used by Champagne Henri Abelé during the second half of the 18th century and which, in order to temper the sobriety of its shape, has been decorated by a craftsman with a foil representation of the bust of one of the angels which decorates a portal on the main facade of Reims Cathedral -the smiling angel known as the "Sourire de Reims".
The word that best defines this champagne is balance because it represents harmony in every shape and form.
Recommended with a lobster "a la presse", Le Divellec style.
Glass by RIEDEL, VINUM collection, CUVÉE PRESTIGE model.
Comments