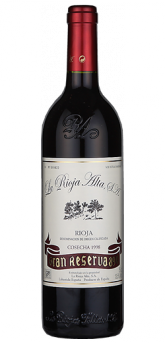 65.00 €
Price suggested by:
(La Rioja Alta)
Red wine
(95% Tempranillo, 3% Graciano, 2% Mazuelo)
As well as being a piece of living history in Rioja, La Rioja Alta bodega is also part of the history of Spanish wines past and yet to come. This is no exaggeration. It is difficult, in living memory, to think of a substitute for its wines in terms of true classics. Their wines very obviously exude the "old style" but, let's be clear, this is the starting point from which many other Spanish wineries have "drunk" for decades.
Appearance
Medium intensity brick red hue with brown edges, evident in classic Rioja style wines of similar age.
Nose
Open and showing remarkable intensity for its age. It is fine with some sun dried red fruit, evident spicy aromas and vanilla-ed oak. Very salient leather aromas and notes of cinnamon sticks.
Palate
Elegant, harmonious. Shows acidity from the outset, faithful to the classic style of old Rioja wines. Evolved fruit flavours, cocoa and black tea leaves. Long, pleasant finish. Shows character.
Comment
Like its brother 904, which we covered in the previous issue, the 890, the winery's oldest wine, was named after the year the company was founded. The first digit of the year has been dropped on the label. The 890, with over six years ageing in American oak barrels and only 25,000 bottles produced, is a young, old classic. Released on the market with nearly 15 years of age, this is a difficult course to maintain when what is considered "in" these days are chewy wines with just a few months of age. Make no mistake, these traditional wines tell a story with every sip, and they must stay like this forever so that we always have a sage at hand to tell us what we have lost. It is no doubt our humble beginnings that this wine evokes, a time when the clock stops, where the immediacy of the moment is savoured and frozen to make way for relaxing, enriching experiences. Peak into the past while still in the present and catch a glimpse of a brighter future with each bottle of this faithful 890 Gran Reserva.
Comments