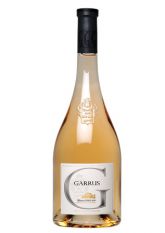 90.00 €
Price suggested by:
(Château d'Esclans)
Rosé wine
(Garnacha - Rolle (Vermentino) (without %))
Château d'Esclans is a splendid 700 acre property located in the La Motte area, north of St. Tropez in French Provence.
The domaine's owner, Sacha Lichine, is the man behind the rosé revolution which has taken place in Provence over the last decade. He has placed his provençal rosés at the same quality level as the great red and white wines, as well as on the front pages of the world's most important food and wine publications. This visionary entrepreneur, working in tandem with Patrick Leon, Château Mouton Rothschild's former winemaker, has turned Château Esclans into a boutique winery (as he likes to call it), dedicated exclusively to the production of his fantastic rosé wines.
The apple of his eye is called Garrus and it is considered the most exclusive and expensive rosé wine in the world.
Appearance
Pale salmon hue with very little colour extraction. Clear and bright.
Nose
Very subtle aromas of wild berries, peaches, elegant floral and aniseed notes. All wrapped up nicely against a delicate, smoky backdrop.
Palate
The wine is extremely elegant and delicate, with a taste of fresh raspberries and citrus fruits. Long finish, full of nuances with light notes from ageing, smoky and dried nut aromas.
Comment
With its miniscule production of 6 barrels per year, this wine is one of the most coveted in the world. 80 year old Grenache and Vermentino vines, the finest white Burgundy-style vinification techniques and ageing in new French 500 litre oak barrels, give the wine an absolutely unique, remarkable and particularly expressive style.
If you are among those who still wonder whether a rosé wine can ever really be great, I promise you that after you try it, you will be left in no doubt.
If you can pair it with some tuna tataki with a strawberry gazpacho, the pleasure will be all the greater.
Glass by RIEDEL, VINUM collection, CHIANTI/ RIESLING model
Comments