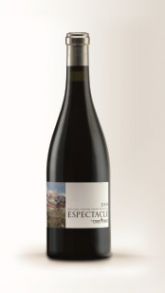 110.00 €
Price suggested by:
(Espectacle Vins)
Red wine
(100% Garnacha tinta)
This lovely wine business, created under the aegis of Rene Barbier, Fernando Zamora (Clos Mogador) and Christopher Cannan (Clos Figuera), has put the Garnacha of Montsant in the who's-who of essential grapes varieties for inclusion in the wine cellars of all those who love Mediterranean red wines. The first official vintage, the 2004, catapulted the wine to international acclaim. It comes from the two hectare estate, to which it owes its name, and which is planted with 100 year old Garnacha growing on calcareous terraces layered with clay. As the name and the pretty illustration on the label clearly invite… sit back and enjoy the "Spectacle".
Appearance
Intense ruby red with a violet rim. Very attractive.
Nose
Exuberant from the outset. Needs some time to settle down. Fresh black fruit, floral aromas laced with orange. No trace of oak. Pure pleasure.
Palate
Velvety on entry. Fruity and balanced, medium bodied, with a gentle, refreshing finish. A feast for the senses.
Comment
This is definitely a wine that gets a big round of applause and endless cries of "encore" from us. We hope that this fine example of a Garnacha will continue to age well year after year as the perfect quality of the final wine never ceases to amaze us. The wine combines flavour, versatility, elegance, pleasure and generosity in an exceptional and very agreeable way. We can see that those grape varieties considered minor in the past are now going through exciting times. This is just what you want when you settle down in a front row seat and look forward to the "spectacle". A wine to share, enjoy and remember forever. Although young, it will develop well over the next decade when it should pair nicely with a classic duck confit à l'orange. Bravo!
Glass by RIEDEL, SOMMELIERS collection, HERMITAGE model
Comments