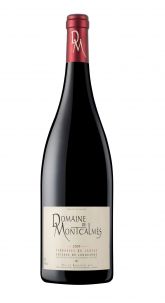 20.00 €
Price suggested by:
(Domaine de Montcalmès)
Red wine
(Syrah 60%, Garnacha 20%, Mourvèdre 20%)
Couteaux du Languedoc Controlée
A delightful winery located to the north of Montpellier which began its activity in 1999 and lies within the Coteaux de Languedoc appellation, presenting a style that closely refers to the indigenous reds of Southern France, with modern notes setting out norms in elegance that are rarely found in this area.
Appearance
A ruby red colour and of high density, slightly cloudy, with an abundance of fine tears.
Nose
Showing notable signs of time spent in barrel, it is very pleasant and of strong intensity that needs some aeration. Ripe-fruit aromas, reminiscent of black fruit, roasted notes and a smoky finish.
Palate
Elegant and refined, it has a firm structure yet which is not in the least heavy. Toasty notes come through at the start, which give way to tapenade, herbs of Provence and wild fruits. Rather rustic tannins, still needing to be tamed in bottle.
Remarks
Set to be a reference in the region, this Montcalmes 2009 can shock at first due to its exuberant powerfulness still waiting to be blended in, but it shows us very clear signs of the elegant potential that this spirited Syrah is capable of affording us, well rounded off with Garnacha and Mouverdre grown on calcareous soils. Although we should not completely abandon the idea of complex gastronomy, in its younger years it is a wine that is better suited to relatively simple dishes, yet still strong-flavoured, such as smoked meats and spring-style Mediterranean cooking, like a rice soup dish with rabbit and morel mushrooms.
Serving temperature: from 16 to 18º C
Recommended glass: Riedel, Vitis Collection, Syrah glass.
Composition: Syrah 60%, Garnacha 20%, Mourvèdre 20%
Ageing: Matured for 24 months in oak barrels used previously for ageing one or two wines. Blending of 3 varieties 2 months before bottling.
Comments