Cuvée Anna Maria Clementi 2004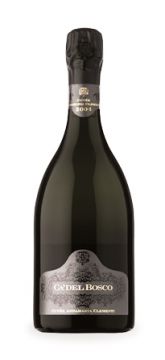 76.00 €
Price suggested by:
(Ca´del Bosco)
Sparkling wine
(Chardonnay, Pinot Noir, Pinot Blanc)
Franciacorta is in the heart of Lombardy, and stretches between Brescia and Lake Iseo. It lends it name to a wine, a production method (the traditional or classic) and the area where the highest quality sparkling wines in Italy are made.
The Ca' del Bosco winery's name comes from the house surrounded by woods in Franciacorta, where Annamaria (mother of the founder of the winery) moved to in 1965. This was when her son, Maurizio Zanella, fell in love with the area and decided to start producing wine there. Today, Maurizio is commonly regarded as being one of Italian viticulture's great innovators, and his winery as the most important in Franciacorta for its quality, as well as being one of Italy's top wine brands.
Appearance
Golden yellow hue with gold highlights. Fine, moderate bubbles.
Nose
Fragrant and ripe on the nose. It unfolds with aromas of baked apple and ripe citrus. Notes of toast, dried nuts such as hazelnuts, and a multitude of aromas derived from its long aging. Mineral aromas from the soil.
Palate
Vinous and full of flavour. Very well balanced overall with smooth, fine bubbles. Flavours of sweet quince and ripe fleshy fruits. Good final acidity showing some mineral character, very terroir.
Comment
This is the top cuvée, named after the mother of Maurizio Zanella, Cà del Bosco's founder. For many, it is the best sparkling wine in Italy, on a par with great champagne. It is made with Pinot Blanc, Pinot Noir and Chardonnay from vines aged over 40 years, grown using organic and environmentally-friendly methods, with minimal human intervention. They have also opted for separate vinification of the grapes from different vineyards, respecting the various terroirs, and blending the resulting wines only at the final stage, with the aim of allowing each variety to express itself to the full.
"To die for" with truffled poulard (roasting chicken)
Glass by RIEDEL, SOMMELIERS collection, VINTAGE CHAMPAGNE model
Comments