Bellavista Gran Cuvée Rosé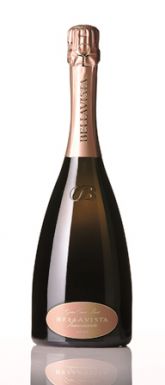 56.80 €
Price suggested by:
(Bellavista)
Sparkling wine
(Chardonnay and Pinot Noir)
The Bellavista winery was founded in 1976, when Vittorio Moretti decided to turn a small family farm into a first class wine making concern. He was helped by the award-winning Italian winemaker, Mattia Vezzola. Vezzola treats the wines in a controlled, elegant manner, giving them a personality and style which are easily recognizable, even in his most basic wines.
The single minded pursuit of excellence in Italian sparkling wines….this is the tireless objective of Bellavista, which has developed a unique method, based on research and the use of its first-rate facilities, to express the character and personality of Franciacorta.
Appearance
Lovely pale pink hue. Abundance of fine bubbles.
Nose
Medium intensity, floral, rose petal aromas combined with notes of fresh, wild red berries, against a grassy backdrop.
Palate
Fresh and full of flavour. The wine is balanced on the palate by its acid structure and high fruit content. Long, lingering finish.
Comment
This Bellavista Gran Cuvée Rosé is only produced in very limited quantities (approximately 3% of total production) and is made ​​from a blend of 52% Chardonnay and 42% Pinot Noir, some of which is fermented and aged for longer than usual in small oak barrels.
In order to obtain a stable, delicate colour, the red wines are produced using submerged cap maceration, which involves leaving the must in contact with the Pinot Noir skins until the start of fermentation.
This wine has a superb, fresh and vegetal bouquet, with a sensual appeal, more common in Burgundy. With its high content of Chardonnay, it is naturally elegant on the palate, but it also shows wonderful Pinot Noir type complexity.
Recommended with grilled salmon with teriyaki sauce.
Glass by RIEDEL, GRAPE collection, CHAMPAGNE model.
Comments