Beaux Freres Willamette Valley Pinot Noir 2011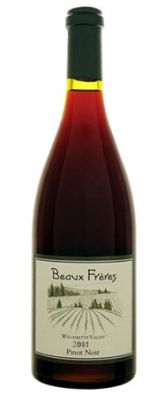 75.00 €
Price suggested by:
(Beaux Freres)
Red wine
(100% Pinot Noir)
The Willamette Valley wine region is located in Oregon. It is the largest AVA (American Viticultural Area) in Oregon and home to most of the State's wineries. The Willamette Valley has a cool, humid climate, and is recognized worldwide for its Pinot Noir.
Beaux Freres' history begins in 1986 when Michael Etzel, along with his brother-in-law, the famous wine critic, Robert Parker Jr., bought a 35 hectare pig farm in Yamhill County, in the north of the Willamette Valley in Oregon. He was soon planting his first Pinot Noir vines, converting the old farm into beautiful vineyards. In 1990, Michael produced his first vintage. He was joined the following year by a third partner, Robert Roy, and they refurbished some of the facilities, making the winery what it is today.
The aim of the winery is to produce a world-class Pinot Noir in small quantities, representing the essence of its vineyard, through low yields, the lowest in the area.
Appearance
Intense ruby red colour with nice tears.
Nose
Intense aromas of cherries and blackcurrants combined with floral violet notes. Some light chalk aromas. All nicely wrapped up against a subtle toasted background.
Palate
Pleasant on entry with a creamy mouthfeel. The wine is full of lovely, ripe, tannins and shows good acidity. Nice long-lasting flavours on the finish.
Comment
Beaux Frères Willamette Valley Pinot Noir is made ​​from Pinot Noir planted in 1998 in "Willakenzie" soil, one of the oldest sedimentary soils in the Willamette Valley, made up of loams and silty-sandy clays. They are cultivated using minimum intervention methods. The vineyards cover a total surface area of 9.6 hectares, spread across the following parcels in the north of the Willamette Valley: Gran Moraine, Zena Crown, Shea, Beaux Frères, Upper Terrace and Guadalupe.
Due to its gentle 12 months' ageing in French oak barrels (already used for 3 vintages) along with a small proportion of new wood, this 2011 appears to be an elegant, charming red, with lovely, intoxicating aromas of roses, cherries and raspberries. These aromas give way to a fresh, pure sensation on the palate, which makes this a very easy-drinking wine and which carries on through into a long, delicious finish.
Recommended with pigeon with red fruit and spices.
Comments