Barbadillo Reliquia Pedro Ximénez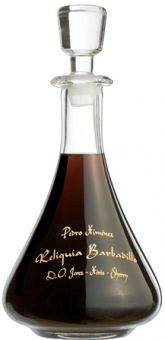 484.00 €
Price suggested by:
(Bodegas Barbadillo)
Sherry
(100% Pedro Ximénez)
Barbadillo represents a piece of living sherry history. This family winery was founded in 1821 by Don Benigno Barbadillo and his cousin.
The old bodega in Sanlucar de Barrameda, facing the sea and the Coto de Doñana, owns 500 hectares of vineyards spread over two estates, Gibalbin and Santa Lucia. Among other distinctions, it has the honour of having introduced the first manzanilla to the market in 1827, marketed under the Divina Pastora brand, and of producing Spain's best-selling white wine, Castillo de San Diego.
If you have not already done so, you now have another good excuse to visit one the most important bodegas and examples of sherry heritage in Spanish history.
Appearance
Black hue with chocolate tones and topaz on the rim.
Nose
Extremely complex with powerful aromas of cocoa, dates, raisins and old oak.
Palate
Full of flavour, surprisingly fresh, light and fruity considering its age. Intense flavours of raisins, dried figs, honey and aromas of coffee.
Comment
We have before us one of Jerez's legendary, sweet old wines. A real gem, a wonderful and authentic reflection of the passing of the years, of wisdom and decades of patience.
Reliquia is released in very limited editions in order to preserve the age and depth of its 1921 solera made up of vintage Pedro Ximénez wines. This wise, old solera contains a treasure replete with raisins, figs, cocoa and coffee, an absolute feast of indecipherable sweet sensations, that once you've tried it, will have you captivated and enamored for life.
Perfect paired with chocolate tart with almonds and orange marmalade, or simply savoured over a quiet, relaxed evening.
Glass by RIEDEL, SOMMELIERS collection, SHERRY model
Comments