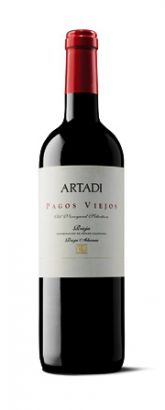 52.00 €
Price suggested by:
(Bodegas y Viñedos Artadi)
Red wine
(100% Tempranillo)
The 80's, when Juan Carlos López de Lacalle managed the Laguardia cooperative and spent his time "swimming" through a sea of maceration carbonique, are long gone. This technique was prized and popular with the famous "cosecheros" of La Rioja at the time. But López de Lacalle had greater ambitions and he slowly set about building the business he dreamt of, adopting the name for an oak grove for his own brand. And so Artadi was born, a modern reference for the new Rioja which has completely abandoned mass production in favour of the quality and meticulous work reflected in the wines, which enjoy an excellent image throughout Spain and are highly appreciated in international markets. From the outset, López de Lacalle was highly rated and regarded by critics worldwide, and he has today become a Spanish wine producer of great renown. He has been expanding his business, for several years now, to include other interesting Spanish wine regions where he heads young, less conventional businesses than the one in Rioja.
Appearance
Cherry red with a purple rim. Very intense colour.
Nose
Very intense, somewhat disordered to begin with. Explosion of red fruit followed by noble oak aromas. Aromas of vanilla, some cocoa and pencil lead.
Palate
Very big. With sweet tannins leading to a massive hit of fruit. No trace at all of barrel ageing. Very long, luscious finish. High scorer.
Comment
The bodega's blended wine par excellence. The tempranillo of tempranillos. Different soils, different exposures, different plots and different vineyard ages, going from 35 years to 80 years. It is the Bodega's classic cut which, in this 2010, is looking very big. It has been aged 15 months in new French oak and packs an enormous punch of fruit and power. Perhaps one of the greatest to come out of the bodega. Ready to drink unlike few others, but also well worth leaving to improve a little longer in bottle. We predict a long life for this modern classic, which has already become a bit of a Rioja icon. Delectable quails grilled on an open fire would be an excellent match for the fruitiness of this young 2010.
Glass by RIEDEL, VINUM XL collection, SYRAH model
Comments