Amarone della Valpolicella Clásico 2003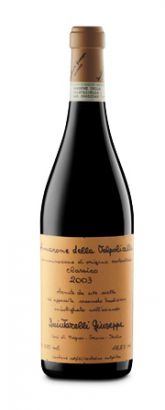 250.00 €
Price suggested by:
(Bodega Azienda Agricola Giuseppe Quintarelli)
Red wine
(55% Corvina, 30% Rondinella, 15% Cabernet-Nebbiolo-Croatina Sangiovese)
Bodega Azienda Agricola Giuseppe Quintarelli
Located in the village of Negrar, in the middle of the Valpolicella valley, amid vineyards interspersed with olive and cherry trees, is the Azienda Agricola Quintarelli. This azienda is a veritable reflection of ancient tradition and extreme purity, allied with the more "contemporary" personal aspirations of its alma mater, Giuseppe Quintarelli, who is sadly no longer with us, having passed away at the start of 2012. Generosity, density, opacity, along with unrivaled ageing ability, are the hallmarks of these magnificent wines, regrettably little known by the general public. They are intrinsically tied to a unique, challenging and magical production process which turns them into iconic wines.
Appearance
Cherry red hue, almost opaque black.
Nose
Needs decanting and hours of patience before it finally opens up with a panoply of aromas including currant liqueur infused with herbs, liquorice, truffles and chocolate.
Palate
Despite being a dense, glycerin and super-concentrated wine, it shows surprising balance and unusual elegance. Enormous length. It is capable of developing smoothly for another 15-20 years.
Comment
The Amarone della Valpolicella Classico from Quintarelli is one of the greatest wines in all of Italy, and an example of painstaking work in the vineyards as well as in the winery, aimed at obtaining the highest quality grapes.
It could be described as a curious and rare wine made in the old tradition, picking and placing the grapes in wooden trays, naturally drying them out in the "fruttaios" (drying rooms) on bamboo racks and then finally ageing the wine for 7 years in large Slavonian oak casks.
With a microscopic production selling at very high prices and only available in certain years (the very best of course), this wine is more than sought after.
Total bliss when paired with some Parmigiano Reggiano Extra Vecchio at the end of a meal.
Glass by RIEDEL, GRAPE collection, CABERNET / MERLOT model
Comments