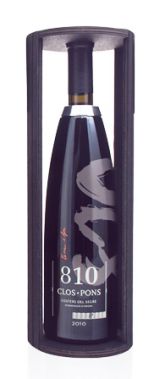 60.00 €
Price suggested by:
(Celler Clos Pons)
This Catalan bodega, part of the Pons Group, is located in the Costers Del Segre appellation area, in the south of the Lleida region of Les Garrigues, known and appreciated for its production of fine olive oil. The bodega is an example of architectural and technological prowess, unrivaled in the area, and its wines have brought a region, which often goes unnoticed by the general public, to world attention. With a modern style and carefully crafted presentation, they do not just give a quick nod to aesthetics, but constantly focus on their guiding principle of making good wine to very high standards of quality and consistency.
Appearance
Very bright cherry red hue.
Nose
Pleasant. Fresh red fruit aromas with some rather peppery notes. No obvious traces of wood, although it exudes slightly chocolaty aromas.
Palate
Smooth and ripe, with a bit a body. Red fruit type flavours with pronounced spicy notes. Medium length finish.
Comment
A magnificent rarity from the 800 series, the number representing the total number of bottles of this wine released on the market each year. The last two digits denote the year of production. As you might expect, Selectus Wines were duty-bound to feature these delectable wines and this particularly magnificent specimen of a unique wine was wild game to be hunted down! The 810 is made entirely from the Marselan grape variety, an oddity in Spain but well regarded in its various manifestations. Many Spanish producers have already started to produce some good examples having been keeping a close eye on the variety since the 90's due to the good results seen in the Mediterranean. The 810 is a robust wine, with a large dose of well-managed tannin that deserves to be tamed in bottle a little longer. Aged for eighteen months in 300 litre oak barrels, this wine is presented in exquisite packaging which will delight hardcore wine design buffs. Uncork it in good company and surprise more than a few drinkers. Ready to be enjoyed with dishes which are robust, like the grape. A wild boar stew would pair deliciously with this one.
Glass by RIEDEL, VINUM Collection, ZINFANDEL model
Comments